WABCO delegation visit at TNU Campus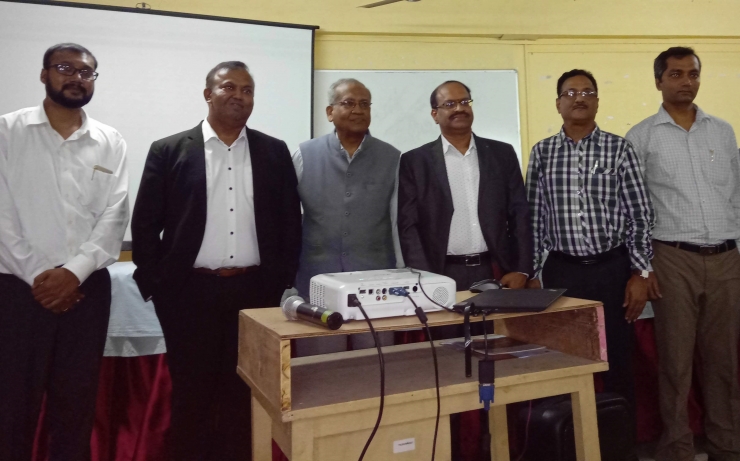 Two member delegation team, Mr. Milan Kumar, Global Chief Information Officer, WABCO and Mr. SG Balagurunatan -Director – Global Business Services & Information Officer Asia, WABCO Vehicle Control Systems from WABCO visited TNU campus on 16th August, 2018.
Three students from final year Robotics Engineering, TNU got selected for three months internship in WABCO at Chennai with a salary of Rs. 12000.00 p.m.
WABCO is a multinational company and No.1 global supplier of technologies and services that improve the safety, efficiency and connectivity of commercial vehicles since 1869. They are working on advanced driver assistance, braking, stability control, suspension, transmission automation and aerodynamics for the world's commercial truck, bus, trailer, car and off-highway manufacturers. Their sales in 2017 was of $3.3 billion. They have 15,000 employees – including 2,600 engineers – in 40 countries.
The delegation team reached TNU campus at 10:30 AM and received a warm welcome. First, they visited for few labs, which was followed by a meeting with Vice-Chancellor, Registrar, HR, TPO, and HODs. In the meeting, Dr. A. Ghosh of Robotics Engineering gave a presentation about the University's background, infrastructures and achievements. Then, the house discussed about possible collaboration and MOU with WABCO and TNU. WABCO offered to develop some joint projects funded by them. They also offered sponsorship for Robotics Engineering students for a complete year or two. The meeting ended with a conclusion that, the faculty members from TNU will visit WABCO in September this year and they will sign MOU with TNU after finalization of the agreements.
The delegation team gave a presentation on WABCO before the students and faculty members and interacted with students. Vice-Chancellor felicitated the delegation team with memento.
They have shown keen interest on the humanoid robot "MARIA" developed by Robotics Engineering students.