ABHIGRAHA, 2018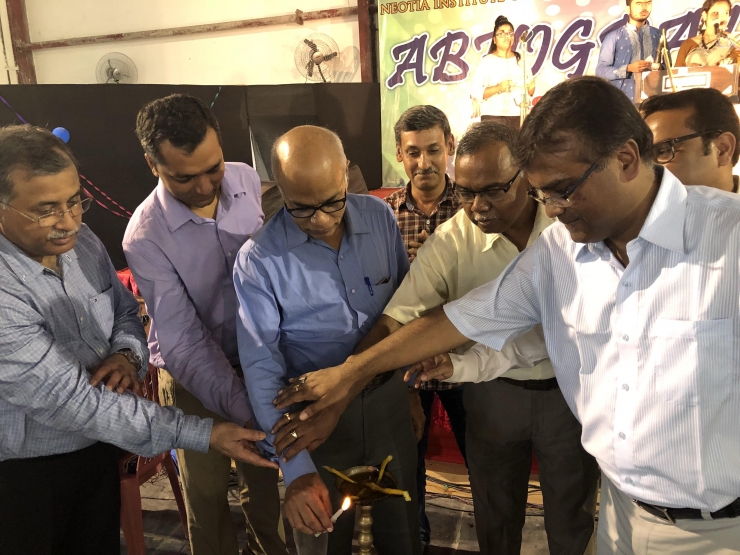 The Neotia University and The Neotia Institute of Technology, Management and Science conducted ABHIGRAHA 2018, the Freshers Welcome for newly inducted students of the 2018 batch across all Streams. The Programme was held at the Multipurpose Auditorium on Campus.
The Students Organising and Cultural Committees which comprised 2nd, 3rd and 4th Year Students all joined hands to plan and deliver this beautiful programme. Principal NITMAS, Dr. Sujoy Biswas, Dean- Engineering Studies, Dr. B. Ghosh, Registrar TNU, Head- Administration and a Marketing Mr. Suhas Mukherjee were among the dignitaries who graced the occasion. The Programme was well attended by a large number of HOD s and Faculty and close to 600 students.
The Freshers were welcomed with a Memento and a Gift each by their Seniors and the Programme commenced with a Shloka from the Vedas and the Ceremonial Lighting of the Lamp by Dignitaries Present. Dignitaries and Senior Academic Heads addressed , welcomed and motivated Freshers present. A short introduction to the various Clubs of the University/Institute was given to Freshers. The anchors kept the Programme alive with Fun Quizzes and humorous interactions. The body of the Programme was a medley of Eastern and Western Classical Music, Modern Rock and Jazz Music, Instrumental Performances, Stand Up Comedies, Skit and Streetplay, Traditional and Modern Dance Performances. Every performance was cheered by the Freshers who enjoyed the Programme thoroughly. Refreshments were served for all followed by Lunch.
A memorable day for Freshers.