Biotechnology: How is it Changing or lives?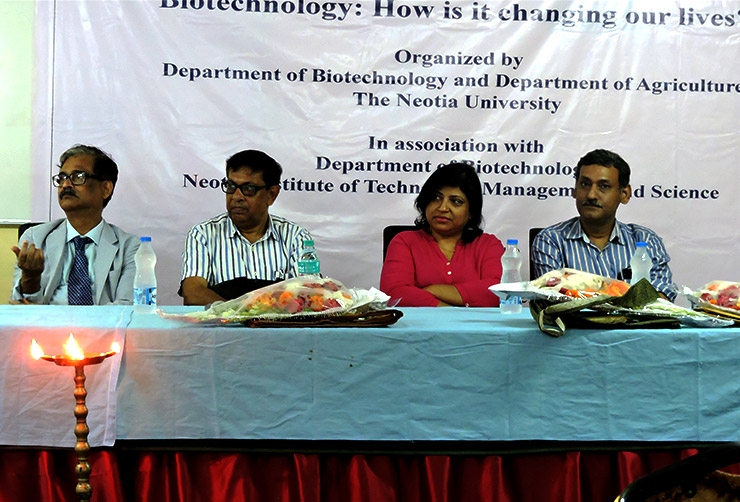 1st annual national symposium on " Biotechnology: How is it Changing or lives?"
A national symposium on "Biotechnology: How is it changing our lives?" held on April 30, 2019 at The Neotia University (TNU) campus, Sarisa, Diamnod harbour road, which was jointly organised by the Department of Biotechnology & Department of Agriculture, TNU in association with Department of Biotechnology, Neotia Institute of Technology Management and Science (NITMAS).
Dr. Amit Sarkar, Head of Biotechnology and convener of the symposium welcomed all the participants, Prof. Biswajit Ghosh, Hon'ble Vice Chancellor,TNU gave the opening speech, while Prof. Dhrubajyoti Chattopadhyay, Hon'ble Vice Chancellor, Amity University, Kolkata delivered the keynote lecture. The other speakers of the scientific session were Prof. Tapas Dasgupta, Dean, Ramkrishna Mission Vivekananda Educational & Research Institute, Dr. Piyali Mukherjee, Assistant Professor, Department of Life Sciences, Presidency University, Kolkata and Prof. Bibhutosh Adhikary, Department of Chemistry, IIEST, Shibpur. The speakers talked about the impact of Biotechnology in our daily lives, its application in crop Improvement, in neuroscience and it's relation with Inorganic Chemistry.
A poster session followed after lunch saw participation from faculty, scholars and students of various institutions as well as the hosts. The posters were judged by a panel of judges and awarded on excellence. The symposium ended with a vote of thanks message delivered by Dr. Prosun Tribedi, Assistant professor of Biotechnology and one of the organising secretaries of the symposium.