Career Options in Hospitality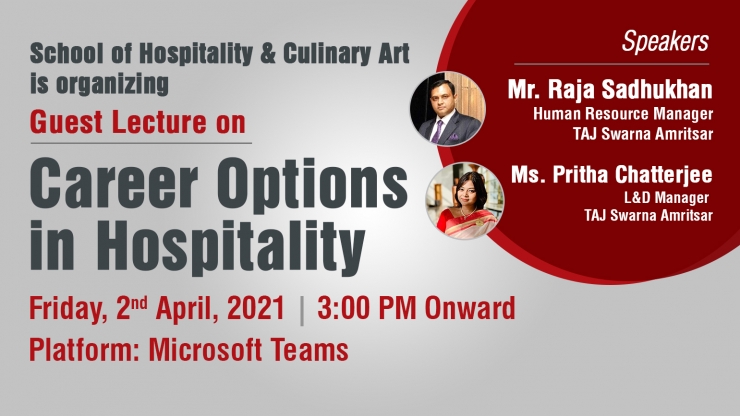 The School of Hospitality and Culinary Art of The Neotia University organized a Webinar on Career Options in Hospitality. The webinar was organized to provide students with a basic thought process of choosing the right stream or options in the Hospitality industry.
Using the interactive session students' key objectives were provided with the basic concepts relating to a wide range of choices that are available for Hotel Management graduates and how to choose among them based on their personal skills, traits and likings. During the session, Mr Raja Sadhukhan shared his personal career journey and also beautifully explained what inspires him the most to be associated with such a fruitful
industry. Ms. Pritha Chatterjee provided her valuable insights regarding the basic requirements and how to groom and prepare oneself during the college days to get into big brands of hospitality, Taj Group of hotels being one of them. Ms Chatterjee also shared her real-time experience of guest handling at busy
weekends and how to handle guest complaints by sharing her thought "In Taj, we follow a process "LEARN" to handle any sort of situations, which refers to L- Listen, E- Empathy, A-Acknowledge, R- Resolve, N- Notify". Sometimes students do not understand and get puzzled while choosing which department within hotels to opt for a career for, with the effective guidance from our guest speakers there doubt was been cleared. Students immensely participated in the sessions where their questions and queries were clarified by our honourable guest speakers. Students had a spot on clarity on how to pursue their dream career post this session.