Celebration of 'International Sun Day'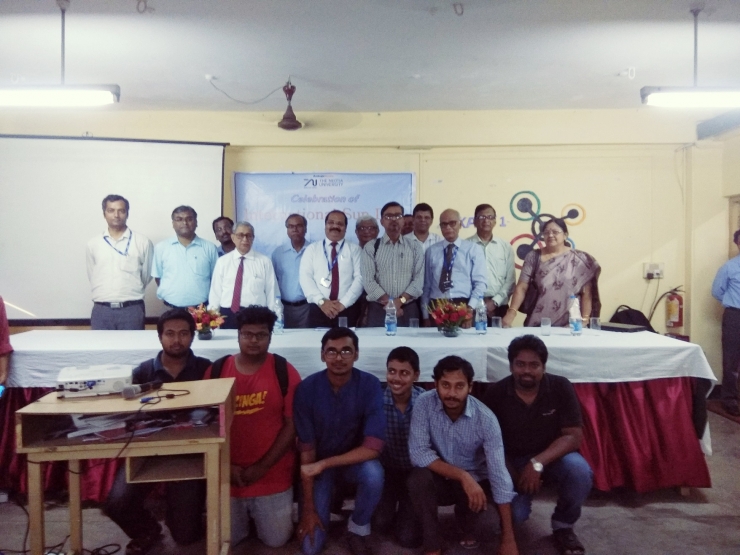 3rd May was declared in 1978 as the "International Sun Day" by then President of USA, Hon'ble Jimmy Carter. He wanted the world to move from fossil fuels to solar and other renewable energy. He suggested that through appropriate activities awareness be created among the society members about conservation of energy and use of renewable energy.
Prof. Biswajit Ghosh, Dean, Engineering faculty at The Neotia University, took the lead to organize and celebrate 3rd May as "International Sun Day" on the campus. Experts from Solar Energy Society of India, Eastern Regional Chapter (SESI-ER), industries like Exide, Vikram Solar, participated in the function along with University teachers, students and administrative staff.
During the function, Prof. Biswajit Ghosh gave a presentation on "Sun in the Service of Mankind". Prof. Mukhopadhyay, former Chairman, SESI-ER talked about various routes used to convert solar energy into useful form of energy. Dr. Nikhil Agarwal in-charge new products of Vikram Solar mentioned about the penetration of solar power in the country's power budget while Mr. A. K. Bhowmik from Exide Industries talked about new charging technologies of energy storage devices used in electrical vehicles. In addition to this, Prof. Bandyopadhyay, Dr. Pulok Pattanayak, TNU, Mr. Suman Haldar, NITMAS and the Registrar also talked about various aspects regarding solar energy and the role it will be playing in coming years in our life. Students found the programme very useful and attended in large numbers. This unique program of celebration of "International Sun Day" on the campus makes TNU one of the few centres in the country that shows that students and faculty are truly global and belong to 21st Century.