Chakravyuh, 2016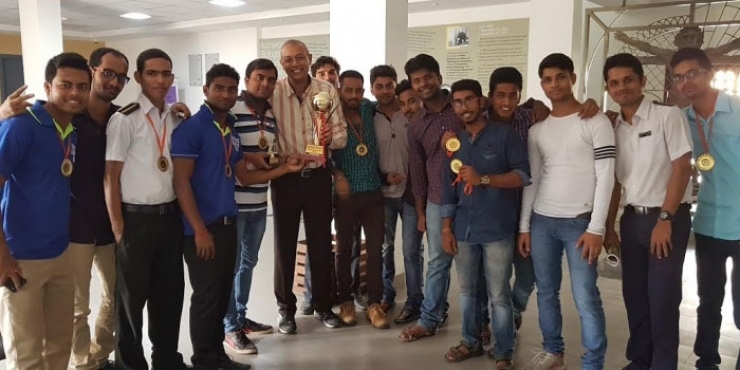 Chakravyuh Intercollegiate Sports Fest 2016 conducted by Marine Engineering and Research Institute (MERI), held at the Indian Maritime University (IMU) Kolkata Campus, encountered some excellent match-winning performances by the combined teams of The Neotia University (TNU) and Neotia Institute of Technology Management and Science (NITMAS).
Subham Kundu, was crowned as the CHAMPION of the Boys Singles Table Tennis event. A proud and glorifying moment for the University & Institute. He took over the Semi Final berth by beating Amity University (3-0) and Techno India (3-2), continued his brilliant performance as he annihilated IEST 4-0 in the Semi Finals, and the stiff challenge of Charuchandra College to prevail 4-3 in the Final Match. A significant achievement.
On the other side, The combined Cricket Team of TNU & NITMAS have also put up a brilliant performance to emerge CHAMPIONS in the Cricket Tournament. The Team convincingly took over NAC by 46 runs in the quater finals, Rohit Banerjee top-scored with 26 while Captain Vishwamohan Kumar and Md.Azam claimed 3 and 2 wickets apiece, respectively, in a match- winning performance.
The Team then overcame, IIM JOKA and Hosts MERI in the Finals to grab the Champions Trophy. An Excellent performance overcoming all odds. Vishwamohan Kumar, Captain of the Team was awarded Man of the Match.
In Basketball for Boys, NITMAS/ TNU fought the wet conditions and a tough challenge to beat the fancied IEM Basketball Team 24-10. The Semi-final spot was sealed by the team with their brilliant performance against Haldia Institute of Technology 33-20. It was a great Team effort.
NITMAS/ TNU prevailed over Techno India 1-0 in Football in a closely fought match. Indranil Moitra scored the winning goal.