Congratulations to Prof. A.S. Kolaskar for the Life Time Achievement Award.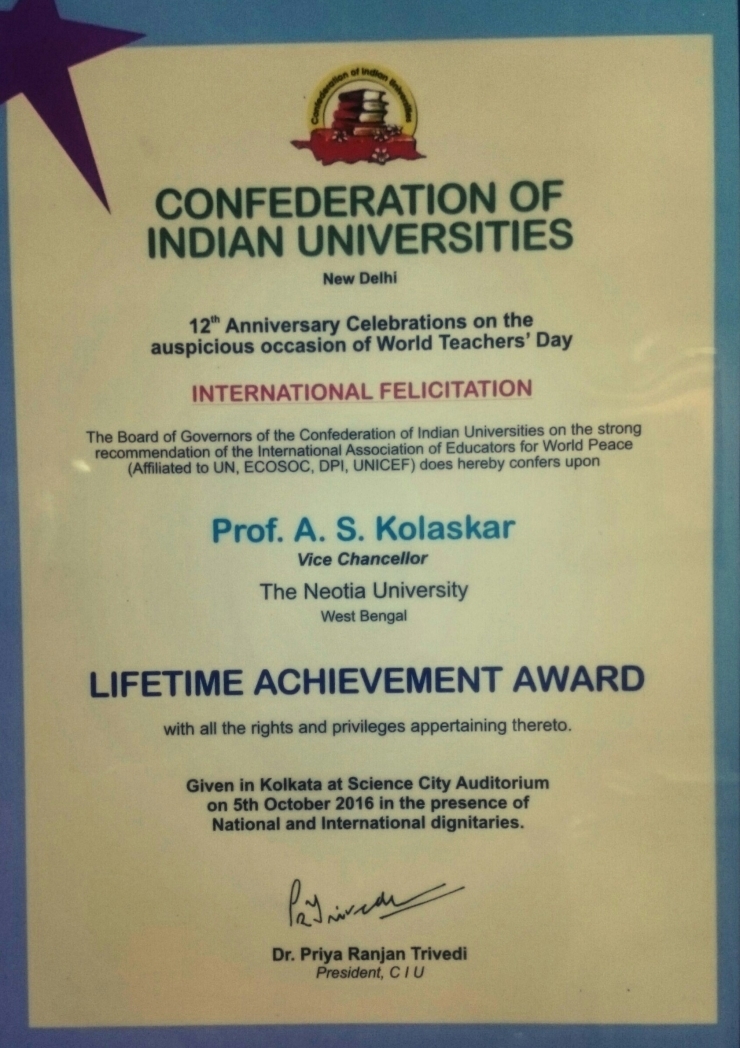 Confederation of Indian Universities (C.I.U) that represents more than 800 Universities in India has organized its 12th Anniversary Celebration on 5th of October,2016 – On World Teacher's Day in Kolkata at the Science City Auditorium.
The Glittering function organized by C.I.U was attended by large number of representatives of the Schools, Colleges, Universities, Chancellors, Vice Chancellors and dignitaries from different parts of India. During this function, Prof. A.S. Kolaskar was felicitated for his contributions in development of higher education system and also as a Scientist who 'Initiated Bioinformatics' and carried out fundamental research in this multidisciplinary subject.
His excellency Governor of Tripura, Mr. Tathagata Roy, has felicitated Prof. Kolaskar by giving him the 'Life Time Achievement Award' in Presence of Consulate General of Federal Republic of Germany, in Kolkata, Mr.Olaf Iversen and Dr. Priya Ranjan Trivedi President, C.I.U, as well as other dignitaries.
We Congratulate Prof. A.S. Kolaskar and are proud to have him as our Vice Chancellor. We wish that he will get many more such recognition for his untiring efforts to develop New Higher Education Model for TNU.