Cultural Nite, 2016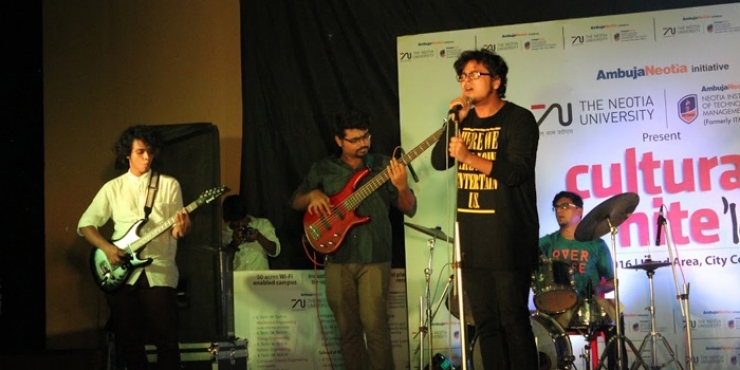 TNU & NITMAS Students organised the Big CULTURAL NITE 2016, a very successful show served to showcase students talent, at City Centre Salt Lake, on 6th November 2016.
The University/ Institute Rock Band and Drama troupe performed in front of a huge crowd at the Kund Area.There were professional light and sound arrangements and a Student Emcee compered the Event.The Event commenced with an introduction by the Emcee, Rakshita Dave, followed by a Comic Introduction by Arghya Bhattacharya & Saptarshi Dasgupta.
The Crowd present was treated with an excellent live-performance by the Institute Rock Band ( Rishav, ​​​​Santashish, Arnab, Rudrarup) where they performed Original Compositions and belted out popular numbers from Bon Jovi and Guns & Roses.
Young crowd asked for more numbers, after the performance was over.
This was followed by a short humorous Skit in Bengali "Sonaay Sohaaga" by the Institute Drama Troupe which entertained the crowd, sending some of them into fits of laughter. The show won praise from a number of people present.