Frost & Sullivan Inc. and The Neotia University Launches collaborative Entrepreneurship Development Program.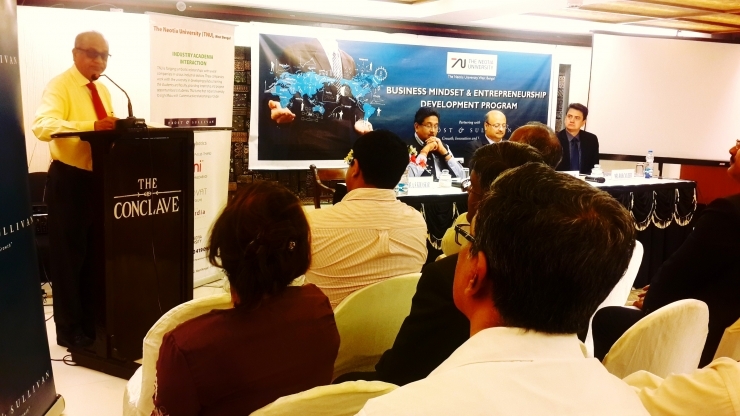 The Neotia University (TNU), a new generation holistic education provider has signed an MoU with Frost & Sullivan Incorporation (F&S) recently. To announce this collaboration, TNU and F&S organized "Business Mindset & Entrepreneurship Development Program" seminar at the Conclave Club.
The program was chaired by Mr.Harshavardhan Neotia, CMD of Ambuja Neotia Group, President of FICCI and the Chancellor of The Neotia University. Other eminent persons who participated in the function include Mr.Aroop Zutshi, Global President of Frost & Sullivan Inc.; Prof.A.S Kolaskar, Vice Chancellor of The Neotia University; Mr.Rob Cayzer and Mr.Digbijoy Chakraborty of Frost & Sullivan Inc. In addition, Mr.Babu Sathian, CMD of All Cast Industries, Bangalore; Mr.Pranay Kishore, MD of Phi-Robotics, Mumbai; Mr.Sagar Daryani, Founder of Wow! Momo, Kolkata; Ms.Kiran Uttam Ghosh, Fashion Designer, Kolkata; Mr.Debashish Bhattacharya, MD of Disha Eye Hospital, Kolkata and many other dignitaries including Prof.Ashoke Thakur, Former Vice Chancellor of WBUT attend the meeting.
Prof.Kolaskar, VC – TNU, while welcoming gathering and guests has informed that the international consulting company F&S will work with TNU, a knowledge partner, to establish Biotechnology Parks in various states of our country including in West Bengal. TNU and F&S will work together with State Governments and Department of Biotechnology of Government of India and other industries to bring large number of Biotechnology companies in these parks. TNU's role will be to provide training to make industry ready human resources such as technicians, engineers and researchers, while F&S will use its expertise and network to identify specific areas in Biotechnology for industry and bring international industry partners.
The second area where TNU and F&S will collaborate will be to provide training in Entrepreneurship. F&S will by handhold the, to be Entrepreneurs from its initial stage till they become successful Entrepreneurs. F&S will help to identify products/services, preparation of business plan, help in getting bank loan/angel capital/venture capital, various State and Central Government clearances and suggest help in marketing
Mr.Aroop Zutshi pointed out in his talk that though they had various options of partnering with established institutions, F&S decided to be partner with TNU because of the leadership at TNU and highly flexible approach. This combination of TNU and F&S is expected to bring major change in the industrial growth, entrepreneurial growth and help in making eastern region of India as prosperous as western part of country (Bombay – Pune Belt). He pointed out that in next 3 – 6 months' time courses can be started with support from not only individual but also from Governmental and Non-Governmental agencies.
Mr.Rob Cayzer has narrated the success story of entrepreneurship courses given by F&S in Malaysia and their close interaction with Malaysian Government, as well as, educational institutions including Universities. Mr.Harshavardhan Neotia talked about lessons he received from his family members during early age and pointed out that he became entrepreneur because of his family. However, hard work, discipline and innovation has made him to achieve what he has achieved today though he has not faced many of the problems faced by first generation entrepreneurs. He also mentioned that no school can give complete recipe to become successful Entrepreneur. It has to come from within.
Mr.Babu Sathian, a technocrat, has pointed out difficulties he has faced in early 1980s and the struggle that he had to undergo during the license raj. However, support from then IISC Director Prof.Satish Dhawan and the continuous innovations helped him to become successful. He developed new non corrosive alloy, designed vertical chemical pump that helped him even as a small scale industrialist to provide his products to large companies in India and then at later stages to international companies. He pointed out that continuous innovation, hard work and high ethical standards are essential for success and key for his satisfaction.
Similar interesting stories about doing what you want to do and hard work were narrated by Mr.Pranay Kishore, Ms.Kiran Uttam Ghosh and Dr.Debashish Bhattacharya. The young Entrepreneur, Sagar Daryani has caught everyone's attention by pointing out how he and his friend started with very small initial investment of Rs.30,000 for his company Wow! Momo but has today reached in a short span of about five years as a company with more than 34 outlets reaching to 100 by the end of this year. He talked about innovation in momos, starting one type of momo to more than fifteen different types of momos to satisfy Indian taste buds, creating brand in every respect and working on customer feedback to continuously improve service are keys for his success.
These Entrepreneurs are the role models for today's young India. India keep changing because of these risk taking individuals who are not only becoming themselves rich but generating jobs for others and improving the quality of life. It is hoped that TNU in association with Frost & Sullivan Inc. and many such Entrepreneurs will truly provide different type of education. It is also hoped that West Bengal state which is rich in culture, performing arts, and visual arts will also become hub of industrial activities through these type of collaborations and human resource generation.