Guest Lecture on Environmental Physiotherapy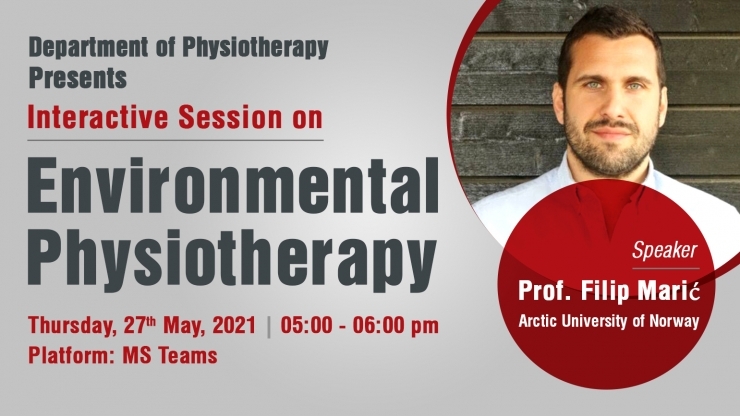 The Physiotherapy Department of the School of Health Sciences of The Neotia University (TNU) is organizing an Internternational Guest Lecture on Environmental Physiotherapy.
It couldn't have been more ironic that the day before the Department of Physiotherapy, School of Health Sciences, The Neotia University organized an interactive session with Prof. Filip Marić (Arctic University of Norway) about Environmental Physiotherapy, the super cyclone Yaas was wreaking havoc in the coastal and Gangetic areas of West Bengal and Odisha. With the anxiety of poor network connection and power cut, a little before 5 pm on 27th May 2021 the students of 2nd and 4th Semester BPT started joining the meeting eager and excited to learn and share.
Before getting into the nitty-gritty of Environmental Physiotherapy, it is imperative to understand what Physiotherapy is. There will be a lot of technical definitions that a person can come across if they search on the Internet but it can be summed up as a healthcare profession that has preventive, therapeutic as well as a rehabilitation aspect which primarily deals with getting a person back to their normal functioning or daily routine as soon as possible. When we talk about getting a person back to a normal routine, we have to think of a person in their natural surroundings. The way a person interacts with their surroundings plays a major role in any health care scenario and this aspect was highlighted by Prof. Marić. He gave an excellent example of COPD (Chronic Obstructive Pulmonary Disorder) which according to WHO is responsible for 5% of the deaths globally and the disease burden is more than 251 million cases of COPD globally. For those who are not aware, air pollution is a major cause as well as a risk factor for COPD. Here Prof. Marić talked about the role a physiotherapist can play in reducing air pollution so that the disease can be prevented rather than treated.
Being an interactive session, Prof. Marić first put forward a question for the students which was "What do you all think is the connection between environmental, social, and health issues and how can Physiotherapy form a bridge between them?" With a little coaxing our students started sharing their views and their queries. One student spoke about the connection between health and environment, how nature produces endorphins and encephalin-like substance which make it mentally as well as physically feasible for the physiotherapy treatment to move outdoors. Another student spoke about how physiotherapy has a lesser carbon footprint than any other treatment process. Some queries were also placed like how a uniform protocol can be prepared when the global environment is so varied and whether incorporating environment into the current physiotherapy procedures would change the traditional approach that the students are learning today.
Prof. Marić added a wonderful perspective to the definition of Physiotherapy. He mentioned that Physiotherapy is the most environment friendly healthcare profession. The waste products that are produced after a physiotherapy session are minimal. He also briefed about active transport being a double benefit where the patients get their physical activities done while also saving fossil fuels which minimize the greenhouse gas production. He stressed the fact that thinking about human movements, human health or human functions is impossible without thinking about the environment. He mentioned that the relation between physiotherapy and environment has always been there and it is recognized as well but they have not been so explicitly expressed.
The roots of the profession lie in natural phenomena. As a physiotherapy educator I know that when I look into the history of the profession and when I trace its foundation as well as development, I see a strong connection with the environment be it the use of hot springs or mud packs for thermotherapy or the use of torpedo fish to develop Electrical Stimulation. Even Prof. Marić agreed that we started from nature before becoming dependent on unnatural resources and now again trying to incorporate nature in our practice. Environmental Physiotherapy is a developing concept which is trying to highlight that Physiotherapists are not mere spectators to environmental issues, rather they can actively guide and work with their patients to create environmental awareness. As wonderfully summed up by a student of BPT, if there is no environment, humans cannot exist. Prof. Marić also stressed on this point that there is a scope for the physiotherapists to become advocates of environmental changes and how it is relevant in the field of Physiotherapy.
He was immensely impressed that the students of our University were studying environmental science and well versed with sustainability issues and the Sustainable Development Growth plans put forth by the United Nations. He encouraged the students to develop their knowledge about the link between environment and physical therapy, to explore the sections of environment given in ICF.
The most important takeaway message for the students from this interaction with Prof. Filip Marić was that like every profession Physiotherapy will also undergo a radical change in the coming future. It was necessary to keep in mind that the relation between humans and animals is conjoined to the relationship that human beings have with the environment. This can be observed in the concept of "One Health" as well in the impact of zoonotic diseases. He finished his discussion with a suggestion for the faculty members where he felt that if we could spread the seeds of curiosity among our students we could ensure that in the coming years Environmental Physiotherapy will come to the forefront.
The Neotia University is moving towards being a pioneer in encouraging Environmental Physiotherapy in India. The campus encourages a strong connect with nature and with the guidance of experts like Prof. Filip Marić of the Arctic University of Norway UiT, the future of Environmental Physiotherapy is very bright in here.