Indo-Bangladesh International Webinar on Aquaculture and Fisheries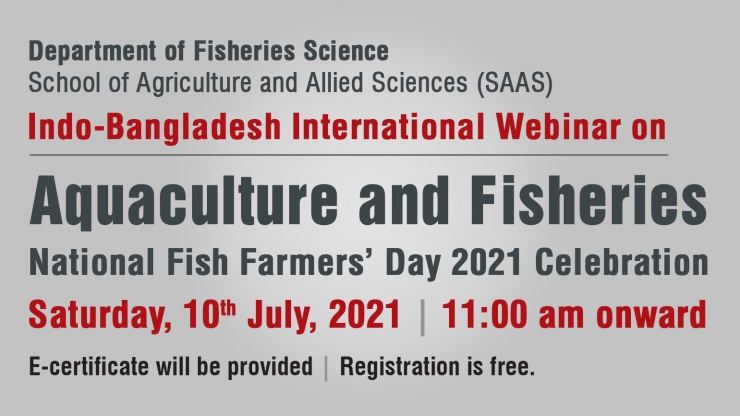 The Fisheries Science Department of the School of Agriculture & Allied Sciences (SAAS), The Neotia University (TNU) is organizing an International Webinar as part of National Fish Farmers Day, on Saturday, 10th July 2021, 11:00 AM Onward.
Join here – https://bit.ly/2SXt1lC
Several renowned speakers from both India (Principal Scientist, ICAR-CIBA, ICAR-DCFR, etc.) and Bangladesh (Director General, Bangladesh Fisheries Research Institute, etc.) will be delivering their talks on Aquaculture & Fisheries.
In the afternoon session, the second issue of the e-magazine / "Matsya Purana" will be released by our honorable Vice-Chancellor, Prof. (Dr.) B. Ghosh.
Further, as part of the celebration, there will be a brief cultural program, followed by a documentary, seminar, and poster presentations by our Ist and 2nd-year Fisheries Science Students.