International Faculty Development Programme on Writing and Publishing Quality Research Papers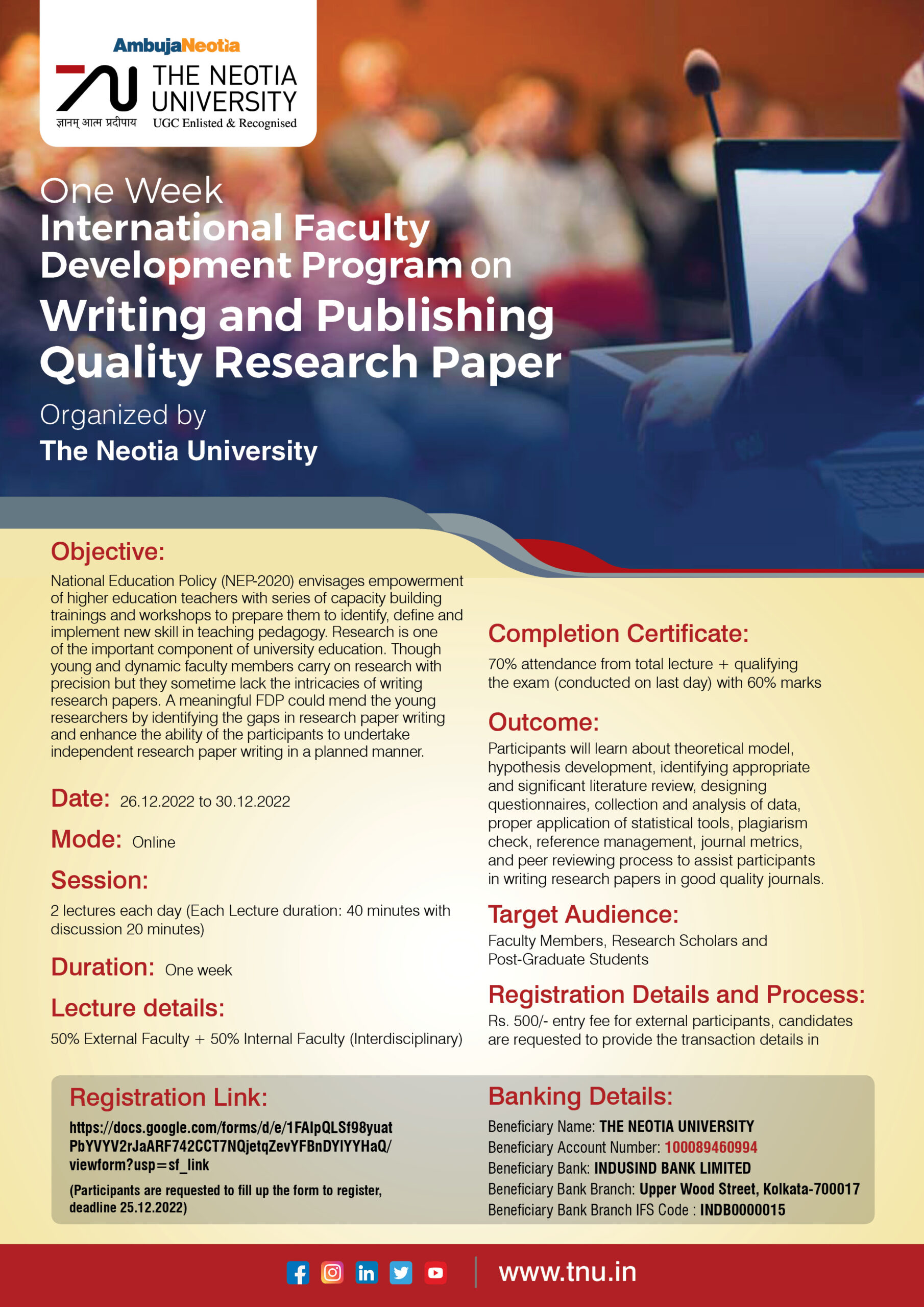 The Neotia University is organizing an International Faculty Development Programme on "Writing and Publishing Quality Research Papers". We welcome all to participate in the said Faculty Development Programme. This Faculty Development Programme will be beneficial for young faculty members to transform their research thought into scientific paper. The successful participants will earn a completion certificate. All other details are provided in the brochure.
Date: 26.12.2022 to 30.12.2022
Mode: Online
Session: 2 lectures each day (Each Lecture duration: 40 minutes with discussion 20 minutes)
Duration: One week
Lecture details: 50% External Faculty + 50% Internal Faculty (Interdisciplinary)
Completion Certificate: 70% attendance from total lecture + qualifying the exam (conducted on last day) with 60% marks
Outcome: Participants will learn about theoretical model, hypothesis development, identifying appropriate and significant literature review, designing questionnaires, collection and analysis of data, proper application of statistical tools, plagiarism check, reference management, journal metrics, and peer reviewing process to assist participants in writing research papers in good quality journals.
Target Audience: Faculty Members, Research Scholars and Post-Graduate Students
Registration Details and Process: Rs. 500/- entry fee for external participants, candidates are requested to provide the transaction details in Registration form. No fees for internal members.
Registration Link: https://docs.google.com/forms/d/e/1FAIpQLSf98yuatPbYVYV2rJaARF742CCT7NQjetqZevYFBnDYlYYHaQ/viewform?usp=sf_link
(Participants are requested to fill up the form to register, deadline 25.12.2022)
Banking Details:
Beneficiary Name: THE NEOTIA UNIVERSITY 
Beneficiary Account Number: 100089460994 
Beneficiary Bank: INDUSIND BANK LIMITED 
Beneficiary Bank Branch: Upper Wood Street, Kolkata-700017 Beneficiary Bank Branch IFSC Code : INDB0000015 
Chief Patrons: Mr. Pradipjyoti Agarwal, Adviser to Chancellor, Prof. Biswajit Ghosh, Honorable Vice –  Chancellor
Patron: Prof. Sushil Kumar Kothari, Dean, School of Agriculture & Allied Sciences
Convener: Dr. Bidisha Mondal, Associate Professor, School of Agriculture & Allied Science
Speaker Details :
Professor Rana Pratap Singh, Ph.D.
Dean Academic Affairs
Babasaheb Bhimrao Ambedkar University (A Central University) Vidya Vihar, Lucknow
Editor-in-Chief, Physiology & Molecular Biology of Plants, Hon. Editor, Climate Change & Environmental Sustainability
Professor Biswajit Ghosh
Honorable Vice Chancellor, The Neotia University
Former Professor of Energy Sc. & Tech., Jadavpur University, Kolkata, INDIA
Leverhulme Visiting Professor, Newcastle University, UK
Professor Felix Bast (PhD, FLS) full Professor 
Central University of Punjab (Ministry of Education, Govt. of India), Bathinda, Punjab, India.
Expert panelist at International Science Council, Paris
Elected fellow at the Linnean Society of London.
Dr. Jiban Shrestha Scientist, Plant Breeding and Genetics, National Plant Breeding and Genetics Research Centre (NPBGRC), NARC, Khumaltar, Lalitpur, Nepal.
Academic Editor PLOS ONE, Review Editor Frontiers in Plant Science
Dr. Debapriya Dutta
Head & Scientist G, SEED Division, DST-GOI
Adviser, Department of Science & Technology, GOI
Former Director, INDO-FRENCH Centre for Promotion of Advance Research, New Delhi
Professor Zaffar Sadiq Mohamed Ghouse
University of Melbourne, Australia, Fellow Royal Geographical Society, UK
Director of Advisory & Innovation, AAM, Melbourne
Dr. Prosun Tribedi
Associate Professor, Department of Biotechnology, School of Science & Technology, Director, R&D Cell, The Neotia University, Editor Frontiers in Microbiology
Dr. Saikat Gantait
Assistant Professor, Genetics & Plant Breeding, Bidhan Chandra Krishi Viswavidyalaya, Nadia, West Bengal, Section Editor 3Biotech, Plant biotechnology, Consulting Editor Sugar Tech, Springer Nature
Dr. Debajyoti De
Assistant Professor, Department of Physics, Sukumar Sengupta Mahavidyalaya, West Bengal
Associate Editor, Frontiers of Physics
Faculty Coordinators for contact and queries:
Dr. Bidisha Mondal, 8910337072, bidisha.mondal@tnu.in 
Dr. Agnishwar Jha, 8250373939, agniswarjha.charaborty@tnu.in
Dr. Arghya Banerjee, 8370894428, arghya.banerjee@tnu.in                                              
Dr. Subhadip Pal, 9474876344, subhadip.pal@tnu.in