International Mother Language Day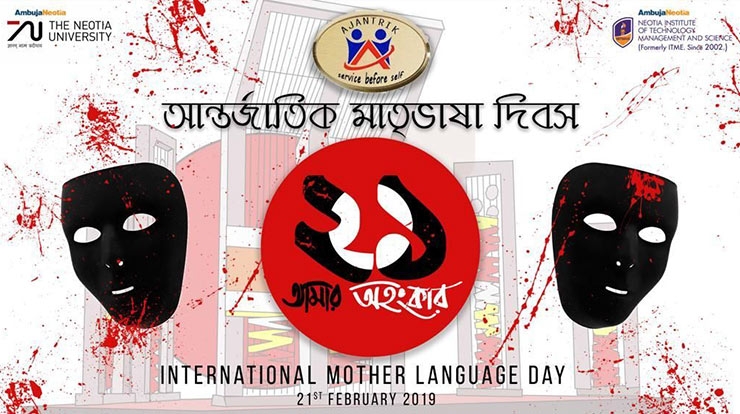 AJANTRIK club of The Neotia University (TNU) and Neotia Institute of Technology Management and Science (NITMAS) celebrated the International Mother Language Day on 21 st February, 2019 with the students, staffs and faculty members and 400 local school students at the campus. An opening dance by the students attributed to the Indian Army martyred at Pulwama Terror Attack followed by the lighting of lamp. The occasion was graced by the presence of Prof.
Biswajit Ghosh- Hon'ble Vice Chancellor, Prof. Sujoy Biswas- Principal, Mr. P J Agrawal- Member of Governing Board, Mr. Suhas Mukherjee, Head-Administration, HOD's/In-charges of different schools/departments. Prof. Biswas expressed his gratefulness to AJANTRIK and in his motivational speech he pointed out to promote the preservation and protection of all languages used by people all over the world. In his inspirational lecture, the Vice Chancellor gave a brief note on the objective of this day is to promote linguistic and cultural benevolence among the diversity and to foster unity among various nations. He has also acknowledged that the concept of celebrating a day under the name of mother language was first announced by (UNESCO) on November 17, 1999.