International Webinar – Mechatronics & Robotics : Future of Tomorrow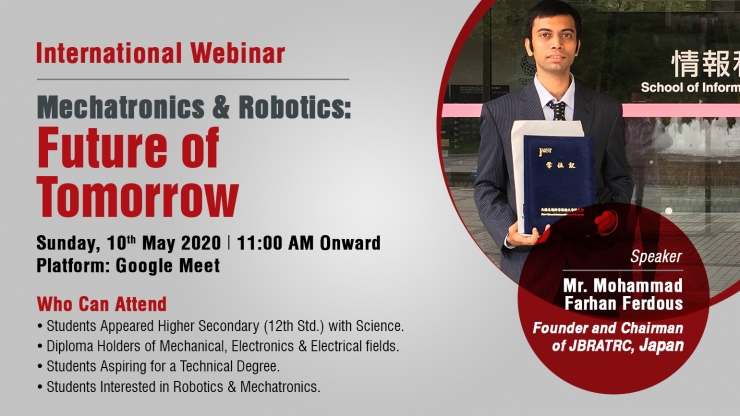 A webinar on International Webinar on "Mechatronics and Robotics: Future of tomorrow" was organized by The Neotia University (TNU)in collaboration with Japan Bangladesh Robotics &Advance TechnologyResearch Center(JBRATRC) held on 10th May 2020 (Sunday), 11 a.m. to 1:30 p.m. (IST). The speaker was Mr. Farhan Firdous, Founder & Chairman, JBRATRC, Japan. A large number of participants from TNU and NITMAS as well as outside attended in the webinar. The objective of the webinar was to introduce Mechatronics and Robotics concept to the 12th Standard School students with Science background and undergraduate Engineering students.
The workshop was started with inaugural address by Prof. Susanta Mitra, Pro-Vice Chancellor. Thereafter, the resource person Mr. Farhan started the technical session. In the first session of the Webinar, he explained about the Basics of Mechatronics and Robotics and their relations comprehensible to the school students. Also, Why Mechatronics and Robotics are so demanding course for the mentioned students and advantages of becoming a Mechatronics & Robotics engineer. Then, some application of Mechatronics and Robotics in various domains with interesting dynamic demonstrations shown through videos, 3D models etc. Finally, he discussed on the prospects of the discipline in terms of employability and future growth. He told about Job opportunities in India and abroad with the information on few leading companies as well as Job descriptions and type of job responsibilities. Followed by, QA session. The session has proven to be very informative as well as interactive as queries of many students from audience were answered clearly by Mr. Farhan.
The second session was entirely technical details of the discipline. Here, he explained Industrial activities with some appropriate case studies. He also discussed on the prospective Research project areas with the scope for commercial product development as well as research opportunities in Japan. This was followed by QA session. The results were overwhelming.
The webinar ended with a vote of thanks by Hon'ble Pro VC, Prof. S. Mitra.