International Yoga Day Celebration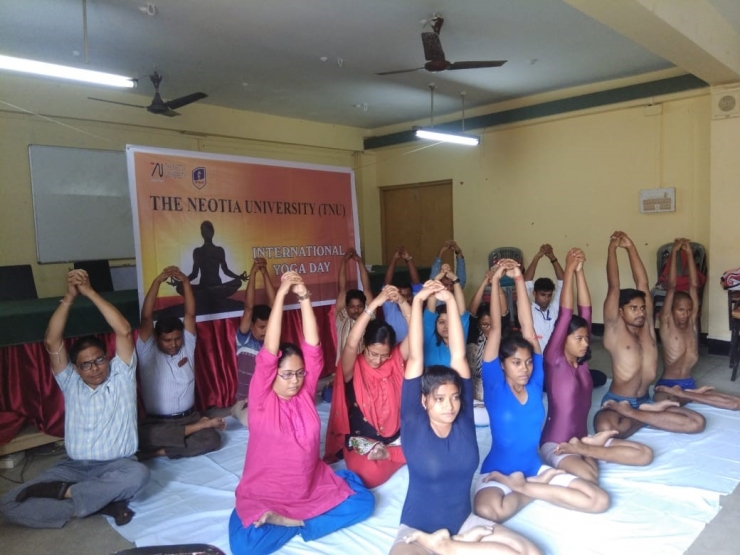 The International Yoga Day is the brainchild of Indian Prime Minister Shri Narendra Modi who suggested this idea during his address to UN General Assembly on September 27, 2014.175 nations including USA, Canada and China co-sponsored the resolution. It had the highest number of co-sponsors ever for any UNGA Resolution of such nature.
On this day countries have activities to celebrate this ancient discipline, which originated in India but has now spread around the world. The day was also celebrated at The Neotia University Campus, West Bengal on 21st June, 2018 with much enthusiasm. The programme was coordinated by Mr. Gopal Bhandari, Sports Officer with the support committee constituted by the Dr. Pulok Pattanayak, Registrar (In-Charge) of the University for this purpose.
A group from Zonal Council for School Games and Sports, Mathurapur 2 also demonstrated Rhythm Yoga and Posture Yoga on the Campus. The hour-long programme was headed by Dr. Biplab Hoom who explained about Yoga Practice and its importance in day to day life. He also demonstrated various Asanas which can be practiced to relieve stress, anxiety, anger, long sitting problems, diabetes, frozen shoulder, backache and spondylities etc.
Dr. Pulok Pattanayak, Registrar in his address praised the group for their outstanding performance and explained about the necessity of Yoga in the daily life to every individual.
Prizes were given to the students who have participated, and demonstrated the Yoga. Sweets were distributed to faculties, staff members, students and guests.