Korunadharai Eso – Rabindra Jayanti 2021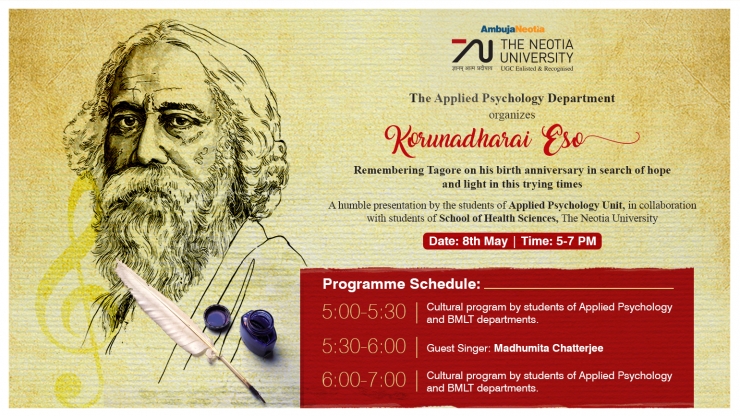 The Applied Psychology Department of the School of Health Sciences is Organizing Korunadharai Eso, Remembering Shri Guru Rabindranath Tagore on his Birth Anniversary in search of Hope and Light in these trying times.
The world is searching for peace and comfort in these trying times. We are housebound yet terrified and dealing with grief frequently. As a response during this time to our community at the university and outside the Department of Applied Psychology took the initiative to organize a program to commemorate the birth anniversary of Rabindranath Tagore.
Traditionally this day is celebrated at every corner of Bengal but this year it felt necessary to take refuge in his words and music. Thus the program revolved around the theme of the struggle of life, grief, and life beyond these. The aim of the event was to seek hope through Tagore's music and writings.
The program had participation from teachers, administrative staff, and of course students. Although the Department of Applied Psychology took the initiative, it was ably supported by the school of health sciences(SHS). Students from the Applied Psychology department performed various songs, recitations, and drama to highlight the theme. Two students from this department also anchored the whole program in a witty yet deep conversation format. It was scripted by the students. The program also included a guest performance by Ms. Madhumita Chatterjee, a young singer, and songwriter. She enthralled the audience with her soulful rendition of a few Rabindrasangeet which were carefully picked for this program. She ended her performance with a song written and composed by her. The BMLT department of SHS offered a neat performance with the drama 'Totakahini' where the audience witnessed the various talents from the BMLT department. Although most of the performance, anchoring were done by students, they were guided in the selection process by the faculties.
Lastly, the program ended with sharing of applause by the audience for the students as well as for the departments. Not only the initiative was appreciated by one and all but the need for such an event was also felt by everyone.