National Seminar and Poster Competition on 'Suicide Prevention through Different Perspectives'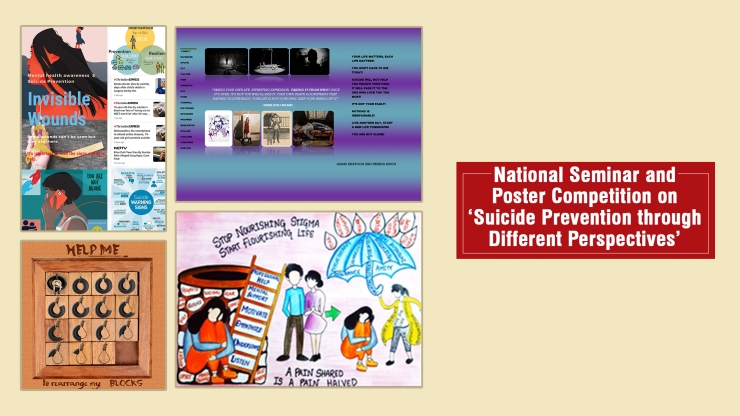 National Seminar and Poster Competition on 'Suicide Prevention through Different Perspectives' organized by the Applied Psychology Department of The Neotia University (TNU) to Celebrate World Mental Health Day on 10th October 2020.
The Applied Psychology Department, The Neotia University has kept the students aware regarding the global scenario of various psychological conditions and outcomes even in this pandemic crisis situation. On the occasion of World Mental Health Day, 2019 the theme of which was "Suicide Prevention" organized a Poster Competition on the theme of suicide prevention. All around the world, 700000 dies of suicide every year which means that in every 40 seconds someone could die of suicide. India, among other countries, ranks 6th in women suicide and 22nd in the count of men's suicide. The average age of individuals who attempt suicide is about 17 years. Besides, this pandemic crisis has led to a huge surge in psychological distress and resultantly an increase in suicide counts. Considering, these present conditions and statistics, the Applied Psychology Unit found it relevant to organize this program on suicide prevention to sensitize the students in general about the occurrence of suicide, the myths prevalent about suicide, the causes behind suicide, and the ways to prevent suicide and also pave a path for students to reach out in need. The students actively participated and put in an incredible amount of research and effort in making the posters on the theme of "Suicide Prevention" from different perspectives. The students also explained their perspectives and interpretation of the conception of suicide and suicide prevention. A huge number of submissions was received from a considerable number of graduate and postgraduate courses of the department. The posters were assessed to rank the first three based on originality of thought, creativity, and organized execution. Details of the Winners of Poster Competition- First Position- Shreya Paliwal, Bsc Sem-5, TNU. Second Position (1)- Saima Khatoon (PG Student, Amity Kolkata) & Prerna Singh (PG student Mount Carmel College, Bangalore). Second Position (2)- Sampriti Das, B.Sc Sem-1, TNU. Third Position- Swarn Raj Sahukari, B.Sc Sem-3, TNU. Fourth Position – Ishita Mahapatra, B.Sc Sem-1, TNU. Professional Position – Kanchan Sengupta (Counsellor, Well-being Consultant).