National Seminar (Virtual) On "Recent Advances in Technology for Conservation and Management of Turtle and marine Mammals"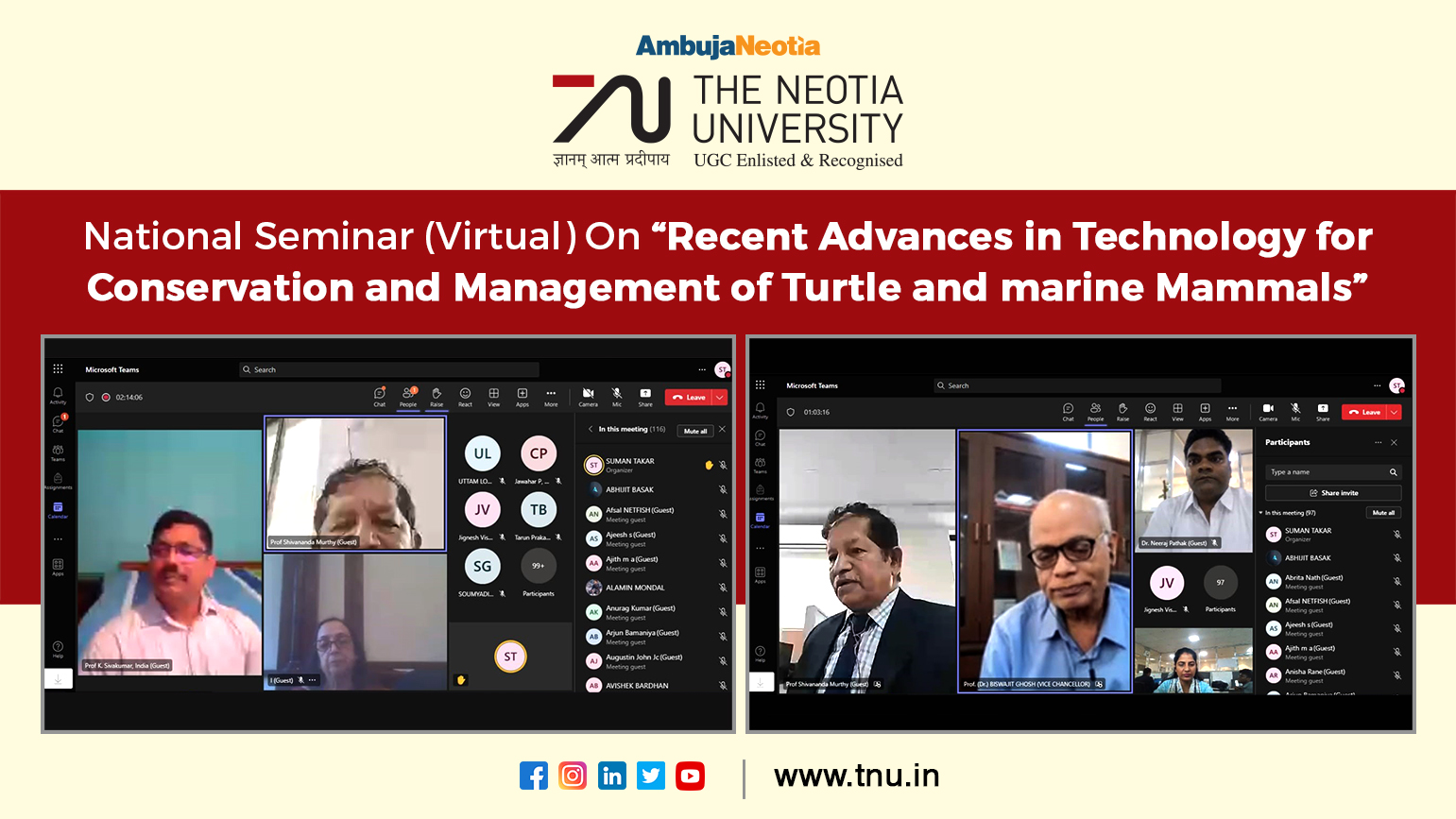 A National Virtual Seminar on "Recent Advances in Technology for Conservation and Management of Turtle and marine Mammals" was organized by Division of Fisheries, The Neotia University on 16th February 2023 (Thursday). The programme started with a brief inaugural note and welcome address by Prof. H Shivananda Murthy, Chair Professor, Division of Fisheries, The Neotia University. While welcoming the chief guests, lead speakers, participants, faculty and students, Prof. Murthy highlighted the purpose of the seminar, fisheries development at global and national level in the recent years and introduced The Neotia University. Prof. Biswajit Ghosh, Hon'ble Vice Chancellor, The Neotia University delivered the inaugural address and the Chief Guest Mr. Suhas Mukherjee, Assistant Vice President, The Neotia University addressed the participants. Key note address was given by (Dr.) K. Sivakumar, Emeritus-Professor, Pondicherry University, Pondicherry, he has delivered the lecture on "Marine Turtles and Mammals Conservation in India Recent Advances in Tools and Techniques". Dr. Latha Shenoy, Former-Principle Scientist, ICAR-Central Institute of Fisheries Education, Mumbai, she has presented on "Harvest strategies for conservation of sea turtle and marine mammals". Dr. P. Jawahar, Professor & CoE, Tamil Nadu Dr. J. Jayalalithaa Fisheries University, Nagapattina, he has delivered lecture on "Conservation of Aquatic mammals in India". Dr. U.R. Gurjar, Subject Matter Specialist (SMS), Dr. Rajendra Prasad Central Agricultural University, Bihar, he is presented on "Plastic pollution: A Threat for aquatic organisms".
More than 300 participants are participated in this seminar from all over the country and few from abroad. The programme ended with a vote of thanks delivered by Dr. Suman Takar, Asst. Prof. & Head, Department of Fisheries Resource Management, Division of Fisheries Sciences, The Neotia University. There was an overwhelming response and very good participation. There was a very good feedback and appreciation from the participants for the efficient organization and the subjects and issues covered in an advanced manner by the speakers. The organizing committee take this opportunity to thank the University Management, other officers, in particular, Pro-Chancellor sir for his support and encouragement for the effective organization of the seminar.