Opening Ceremony of the Poetry and Art Club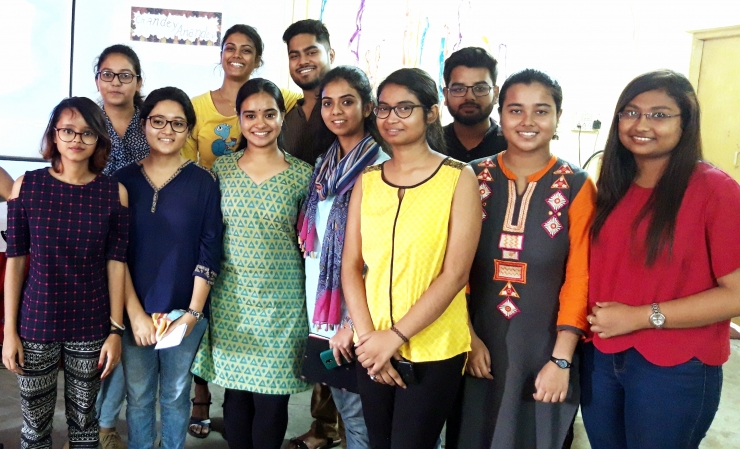 The students organised an opening ceremony of the poetry and art club "Chandey-Ānandey" at the seminar hall(SB2) on 4th Oct'18.
Faculty members of various streams of TNU and NITMAS were present during the course of the event.The event began with a keynote speech by Dr. Dipannita Datta, who in her speech gave an insight into the world of art and poetry to the audience and also threw some light on the naming of the club "Chandey-Anandey". After the speech Souptik Sengupta delivered the welcome note to all the teachers, management staff members and students present at the event. The event moved along with poetry recitation by Mr. Suhash Mukherjee and Mr. Apurba Roy.Mr. Suhash Mukherjee also enriched us with his suggestions on reciting poetry.
After this recitation it was then time for the introductory speech by Rimi Sharma, who aptly explained the meaning of poetry and art and its importance in our lives.
The introductory speech was followed by an enchanting session of slam poetry performed by Debanjali Paul and Souptik Sengupta,Bengali poetry recitation by Sruti Nanda and Hindi poetry recitation by Madhura Chakrobarty accompanied by Souptik Sengupta on the guitar. Following these pleasant performances Partho with his powerful and emotional poetry in Jharkhandi language and Sneha Roy Chowdhury & Debarupa Ghosh with their spectacular presentation on togetherness of art and poetry mesmerised the audience. Atanu Bishal concluded the performances on a light note bringing smiles to everyone's faces with his thoughtful Shayari. At the very end Deep Singha gave a vote of thanks to Dr. Dipannita Datta acknowledging her immense contribution and guidance in the process of starting this club and to all the teachers and students as well for coming to the event, thus making it a huge success.