Orientation Webinar on Cutting Edge Specializations in Engineering for Professional Success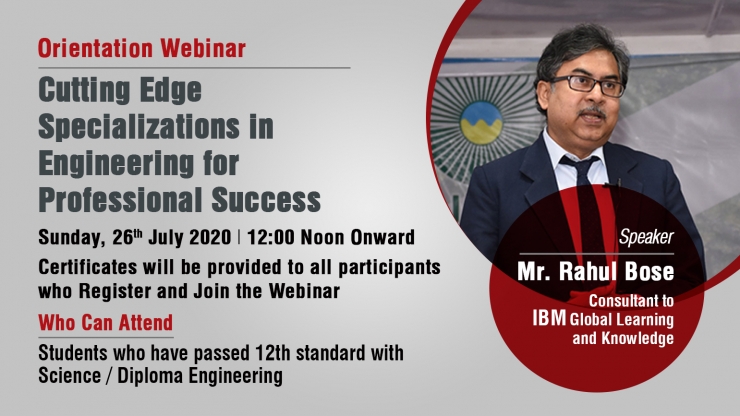 An Orientation Webinar on "Cutting Edge Specializations in Engineering for Professional Success" organized by The Neotia University held on 26th July 2020, 12 noon.
The speaker was Mr. Rahul Bose, Consultant to IBM Global Leading and Knowledge. A good number of participants from all over West Bengal as well as outside of Bengal have attended the programme. The objective of the webinar was to orient the 10+2 pass out students with new non-conventional technologies like AI/ML, Mechatronics, Robotics, Renewable etc. which have developed in recent years.
The Webinar was started with a nice inaugural address by Prof.(Dr.) Susanta Mitra, Pro-Vice Chancellor. He explained about the importance and need for specializations in engineering for building up a successful professional career. Thereafter, the resource person Mr. Rahul Bose started the technical session. He started with an introduction of various cutting edge technologies like AI/ML, Cyber security, Mechatronics, Robotics and covered all most all of these technologies. He also explained the future and career prospects of these technologies as well. In between Dr. Ankush Ghosh, HOD of Robotics & Automation, TNU added some significant feature of Robotics and its possibilities at TNU. Finally, Mr. Bose interacted with few attendees. The session has proven to be very informative as well as highly interactive as queries of many participants from audience were answered clearly by Mr. Bose. The results were overwhelming.
The webinar ended with a vote of thanks by Hon'ble Pro VC, Prof. Susanta Mitra.