Orientation Webinar on Successful Career Directions for Computer Science and Engineering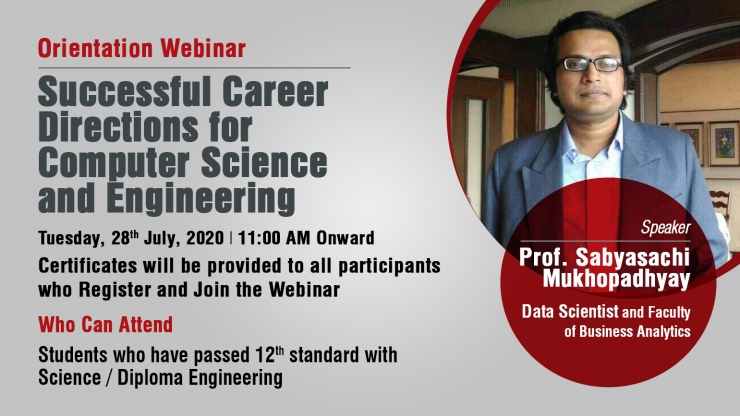 An orientation webinar "Successful Career Directions for Computer Science and Engineering" was organized by the department of Computer Science, The Neotia University on 28th July 2020 to address some frequently asked questions by the students regarding different career options that they might pursue after studying Computer Science and Enginering.
The session started with a Welcome address by Hon'ble Pro-Vice Chancellor Dr. Susanta Mitra. He started the session with a warm welcome to our distinguished speaker, Prof. Sabyasachi Mukhopadhyay and nicely briefed about the importance and need for acquiring specialized knowledge and skills in different areas of Computer Science and Engineering like AI&ML, Data Analytics & Cyber Security. It was followed by a brief introduction of our speaker by Dr. Poulomi Das. The speaker, Prof. Sabyasachi Mukhopadhyay is an Assistant Professor of Business Analytics at BIMS Kolkata, MAKAUT. Apart from being Kolkata Lead of Facebook Developer Circle, he is the 'Google Developer Expert in Machine Learning' and 'Intel Software Innovator'. He is a Visiting Faculty at Symbiosis Center for Information Technology (SCIT), Pune (Deemed University). He was the 'Co-Founder' and 'Chief Research Officer' of Twelit MedTech Pvt. Ltd and currently involved in startup mentoring activities. He was featured in Facebook's special coverage 'The Limitless' as one of India's leading innovators and entrepreneurs of 2018.
Prof. Mukhopadhyay started with a very simple explanation of "What is Computer Science". He explained about the latest advances in Computer science in India. He also talked about how different gadgets have become a part of our daily lives after which he smoothly transitioned into the scope that our dependency on gadgets creates in the field of computer science. Starting with cyber security, he explained how it is a vital field of study, starting from our daily life transactions to securing information flow between military communication. He primarily identified four major fields apart from the traditional computer science engineering, that are developing at a fast pace. These fields of high demand include, Artificial Intelligence, Machine Learning, Data science and Cyber Security. He presented some simple yet powerful examples to emphasize his points. He also mentioned some of the top organizations that are investing substantially towards these cutting-edge technologies which further motivated the students. It was followed by a question/answer session which further clarified a lot of doubts that many students may have in mind regarding these technologies.
Towards the end Dr. Pranam Paul extended his Vote of thanks towards all the members present in the talk. He thanked Hon'ble VC Prof. Biswajit Ghosh, Pro VC Dr. Susanta Mitra, our distinguished speaker Prof. Sabyasachi Mukhopadhyay and all the students and faculty members present. It was an enlightening session and ended on a positive note with some delusions being dissolved and problems being resolved.