The Neotia University conducted a Seminar on Lecture Series to offer a renewed approach to English Literary Studies.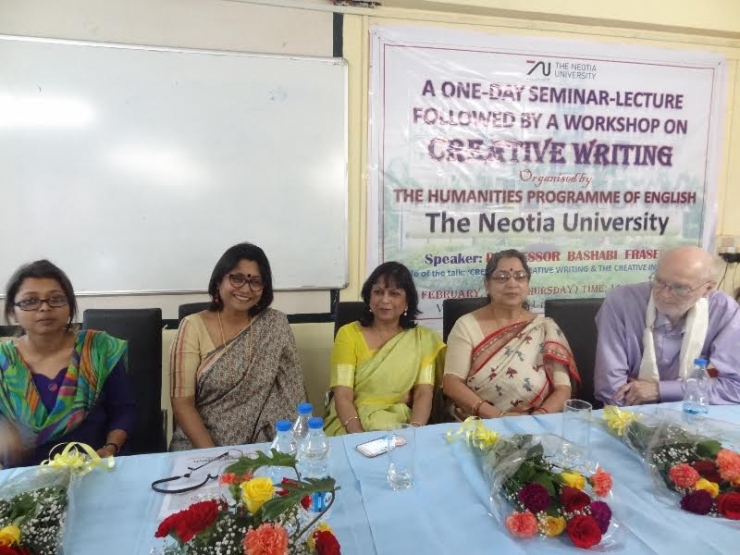 The School of Languages at The Neotia University, opened an important programme —'Seminar-Lecture Series'. The programme was aimed at spreading literary concerns about creative writing, analytical-historical traditions, language, creativity, and to offer a renewed approach to English literary studies, within and without the bounds of normative English course. It started with a positive note of encouragement that would sustain a greater understanding of the links among creative writing, language, literature and communication, among others.
Professor Bashabi Fraser, a scholar, teacher, and a creative writer in her own rights, is one of the foremost poets of contemporary Scotland and a notable poet of the postcolonial era, delivered the first seminar-Lecture—Creativity, Creative Writing and The Creative Industry.
The grace of the event in presence of Professor Bashabi Fraser, accompanied by Professor Neil Fraser, was enhanced by the enthusiastic participation of students, teachers from the Neotia educational institutes — TNU, NITMAS, SOMS, and from the DHWU. The event received wholehearted encouragement from the Honourable Vice Chancellor Professor Ashok Kolaskar. The presence of Professor Surabhi Banerjee (Mentor, School of Languages) and Professor Asim Kumar Bose (Advisor, Auto Manufacturing) facilitated the programme.
As a whole, the event was a resounding success. One of the invited professors wrote: 'I had an invigorating experience today. The girls found it extremely fulfilling too'. Participants learned the evolving nature of creativity, the skill of how to explore creative writing. They learned how creative writers can auto critique their thoughts and beliefs; they learned to connect internal ideas, aches, yearnings and experiences and external systems and to engage themselves in the internal conflicts of a creative writer and the external hard-hitting current issues, and express them in a diary entry, in a memoir.