The Neotia University Organizes Industrial Automation – PLC & SCADA Workshop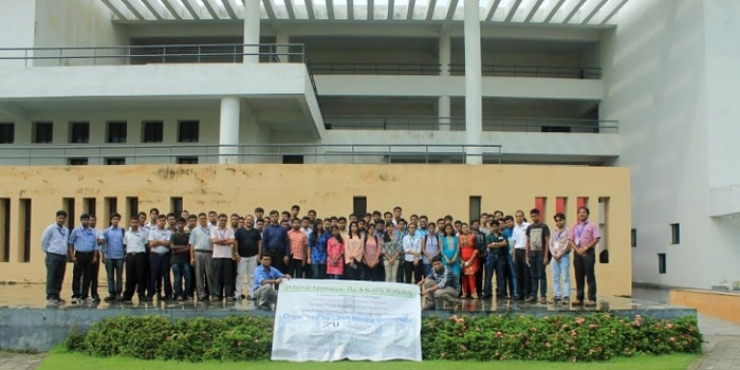 The Neotia University (TNU) conducted the Industrial Automation – PLC & SCADA Workshop on its campus at Sarisa, Diamond Harbour Road on 24th & 25th September, 2016 which was attended by 62 B.Tech students of different streams and institutes including KIIT, Bhubaneswar.
This workshop was conducted in association with Indian Institute of Technology (Banaras Hindu University), Varanasi IIT (BHU), Varanasi as a part of Technex'17. The workshop was inaugurated on 24th of September by the Vice Chancellor of TNU, Prof. A. S. Kolaskar. He highlighted the need for such workshop and the approach of TNU to collaborate and work with industry and institutions to provide best education to younger generation. The inaugural session was attended by the Registrar and other faculty members of TNU & NITMAS.
Mr. Syed Md Asadur Rahman, a former graduate of IIT BHU and one of the founder of the Innovian Technologies, a partner of Technex'17, was a lead trainer. On the first day, morning session was used to provide necessary theoretical background, while students carried out hands on training and solved problems using "Programmable Logic Controller" in the second half. In the afternoon Prof. Joyanta Kumar Roy, former Dean of MCKV Institute of Engineering, delivered a talk entitled "Smart Instrumentation and Sensing System for Remote Water Quality Surveillance", in which he showed interesting real time experiments to monitor water quality using PLC from personal computers as well as smart phones.
The second day of the workshop started at 8:00 A.M. onwards and dealt with "Supervisory Control and Data Acquisition" (SCADA) theory and hands on applications. The last few hours were used to conduct a competition on Industrial Automation. Participants were divided into 15 groups and each group had to solve two problems either based on PLC application or SCADA within the allotted time. Out of the 15 teams, the best two teams were given a certificate of excellence and they will be participating in the National event that will be held in IIT Varanasi. All other participants have also received merit certificates and PLC & SCADA software CDs.
The feedback clearly indicated that the workshop was successful and very useful for the participants. Participants learned not only new things which are not in their regular syllabus but found the pedagogy as well as the knowledge of the trainer very good. The coordinator of the workshop, Dr. Debajyoti De of TNU, has made sure that the workshop went on without any hitch and become a success.