The Orientation Programme for the Freshers of the Academic Year 2018-19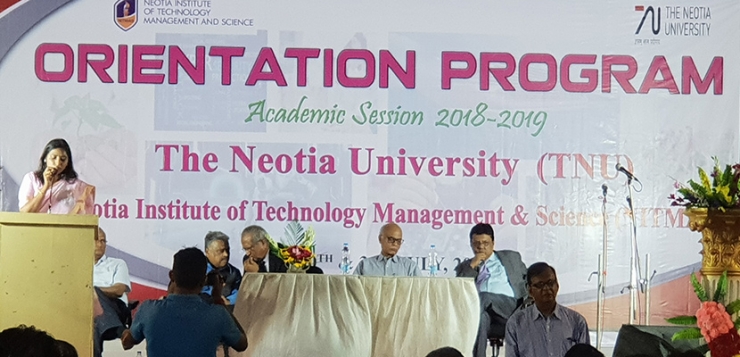 The Orientation Programme for the Freshers of the Academic Year 2018-19 of The Neotia University and NITMAS was held on the 30th October, 2018 at the Multipurpose Hall on Campus. More than 600 students, parents and guardians attended the Programme along with staff and faculty across various streams.
The Programme commenced with the ceremonial lighting of the lamp and an invocation song. This was followed by the Vice Chancellor's Address on the mission and vision of the University. Chief Guest Prof.R.K.Samanta,an eminent personality and a doyen in the field of Agriculture, then occupied the Dias and addressed students regarding goals and career path. A pen picture of the University was then drawn out by Dean- Engineering and Sciences in his speech, followed by addresses of Director- School of Maritime Studies and Director- School of Hospitality and Culinary Art regarding the structure and function of the respective schools. Prof. Sujoy Biswas, Principal, NITMAS, then provided and insight into the mission, vision, structure and function of the Institute. The Sub Divisional Police Officer addressed the audience regarding the issue of Ragging and it's implication and the Sub Divisional Officer also addressed the audience with his views.Eminent faculty, Directors, Deans and HODs were then individually introduced with a short career sketch. Head Administration followed this up with DOs and DONTs on Campus and a detailed insight on Campus Life and Sports and Extra Curricular activities was provided by Head- Student Affairs. The Programme ended with Lunch for all and a captivating performance by the College Rock Band which everyone enjoyed thoroughly.