TNU and NITMAS organised a Workshop on "ROS ROBOTICS AND MACHINE LEARNING"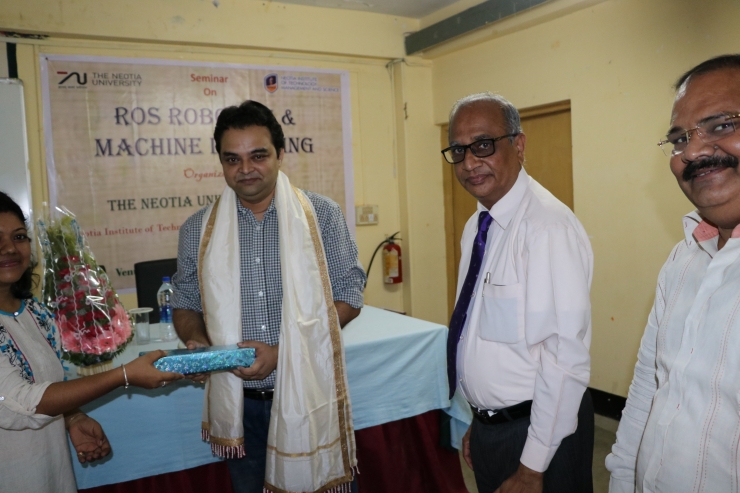 The Neotia University (TNU) and Neotia Institue of Technology, Management and Science (NITMAS) organised a Workshop on " ROS ROBOTICS AND MACHINE LEARNING" on Campus at the Seminar Hall.Over 100 Students and Faculty members attended the Programme.
Mr. Anirban Ghatak, who has longstanding and significant Industry experience in leading Information Technology (IT) and Software Firms like Cognizant Technology Solutions, T-System and Wipro, holds a PMP from PMI, U.S.A., was the eminent speaker.
The programme was inaugurated by our honourable Vice Chancellor Prof. Ashok Kollaskar, and the speaker was felicitated by Registrar-TNU, Dr. Rajeev Verma. This was followed by the Vice Chancellor's address to Students and Faculty present.
Mr. Anirban Ghatak then held an extremely informative and enlightening audio- visual presentation on ROS and Machine Learning, underlining theoritical and practical applications, its scope and industry opportunities. ROS (Robot Operating System) is an application like Google or Android which can be freely downloaded and used. In an age where the application of Robots are existent right from household appliances to cars and aircrafts, this unique and groundbreaking application acts as an interphase between Harware Robot and Software Operating System. Similarly, Machine Learning deals with the streamlining and management of Big Data, and analysis of the same.
The Students enjoyed the presentation and the interactive session and asked several intelligent and pertinent questions.