University Apex Leadership Conclave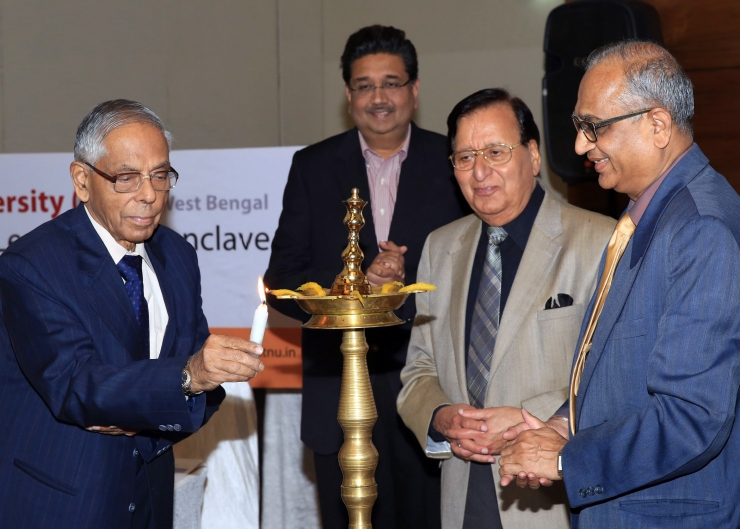 Nearly 35 Vice Chancellors from all over the country have attended 'University Apex Leadership Conclave' organized by TNU and was inaugurated by Shri M.K Narayanan, Former Governor of West Bengal. In his inaugural speech, he has suggested that the Chancellors must become an integral part of the University system and should not be at a very high pedestal where students, teachers and Vice Chancellors find it difficult to interact with him. He should guide the University.
The key-note address was delivered by Prof.Hari Gautam, Former Chairman of UGC. He pointed out the need to change Regulatory Bodies such as UGC and advised the Vice Chancellors to speak in one voice to bring about the changes.
The inaugural session was chaired by the Chancellor of TNU and the President of FICCI, Mr.Harshavardhan Neotia, who pointed out the need to understand new generation students who are very savvy with the use of IT technology and thus, suggested to move away from the brick and mortar model of the University.
Prof.A.S Kolaskar, Vice Chancellor of TNU, welcomed the dignitaries and delegate Vice Chancellors and speakers. He has pointed out the need of the platform for Vice Chancellors to meet and discuss issues freely and frankly without a fear to be quoted out of context. Such a platform will also help to learn from each other's experiences to overcome problems and issues while managing the University.
The session on Role of Higher Education Regulatory Authorities in India has witnessed, lively discussions. It was pointed out that the comprehensive University Vice Chancellors has to work with 15 – 17 different Regulatory Authorities which are not in sync with each other. This affects drastically the functioning of the University. Visits of Committees of these bodies tend to take away attention from quality of education to mere Record keeping. Many Vice Chancellors have suggested that there should be single higher education regulatory authority as mentioned few years back by National Knowledge Commission. Some of them were of the view no external regulatory authority is necessary as the Act of the University itself is sufficient, if followed using transparent approach in letter and spirit.
Everyone agreed that IT technology in higher education will have immense impact on functioning of Universities, particularly to bring transparency in administration, student life cycle, finances, as well as to improve quality of teaching and research. It was felt that the MOOCS and virtual classes will help in improving the quality of education, provided the Regulatory Bodies change rules appropriately and also the definition of a faculty of the University. This will help Universities to collaborate in teaching and research and establish centres of excellence in identified areas.
Find Below The List Of ,
Participants – University Apex Leadership Conclave 
Vice Chancellors who have attended the University Apex Leadership Conclave