Webinar on Artificial Intelligence – Past Present & Future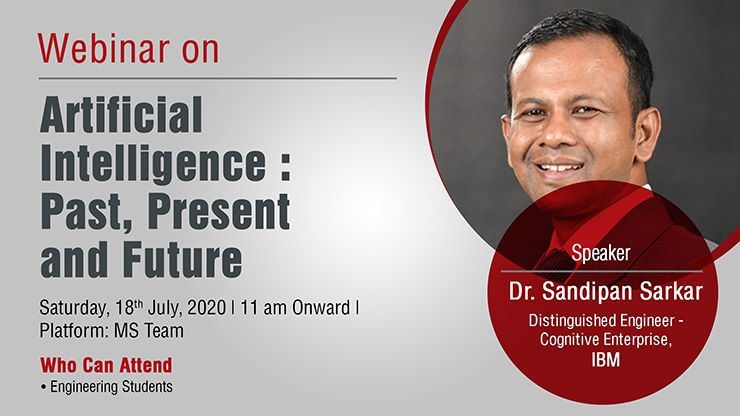 A Webinar on the topic "Artificial Intelligence: Past, Present and Future" was organized by the School of Engineering and Applied Sciences, The Neotia University on 18 th July 2020 for the students and faculty members. The session started with a brief introduction of the distinguished speaker by our Hon'ble Pro-Vice Chancellor, Dr. Susanta Mitra. The speaker Dr. Sandipan Sarkar is a distinguished Engineer at IBM and has been working to chase his passion to solve intriguing business problems using technology. Dr. Sarkar is a globally respected technical expert in new age technologies and his enlightening talk was a reflection of the same.
Dr. Sarkar started his session by talking about the journey of homo sapiens and how they have been constantly trying to make development in order to make a better livelihood. He emphasized that language and effective communication between homo sapiens formed the basis of human race being the most dominating species right now. Industrial revolution which started around 200 years ago is currently in its fourth phase and now we, the humans are trying to make machines to learn. Both machines and humans have their own limitations and they need to come closer in order to increase their respective capabilities.
Cognitive Computing involves studying mental activities in humans and replicating them into machines. It is a blend of artificial intelligence, neural networks, machine learning, natural language processing. Dr. Sarkar established this idea as a philosopher, mathematician and an economist which was very refreshing and easy to relate. He talked about deep learning, decision trees and the dimensions of cognitive computing. He also identified and talked in detail about the forces that might impact the future evolution of cognitive computing. Dr. Sarkar quoted a beautiful line by Antoni Gaudi that "Nothing is invented, for its written in nature first" to emphasize that there is a lot that we can learn from the nature for making development in this field. It was an enlightening and informative session.
Towards the end our Hon'ble Pro-VC, Dr. Susanta Mitra beautifully summarised some important points made by Dr. Sarkar and thanked him for taking out time for this session. Dr. Pranam Paul extended his Vote of thanks towards all the members present in the talk. He thanked Hon'ble VC Prof. Biswajit Ghosh, Pro-VC Dr. Susanta Mitra, our distinguished speaker Dr. Sandipan Sarkar and all the students and faculty members present. The session ended on a positive note with some discussions towards the end.