World Pharmacists Day 2020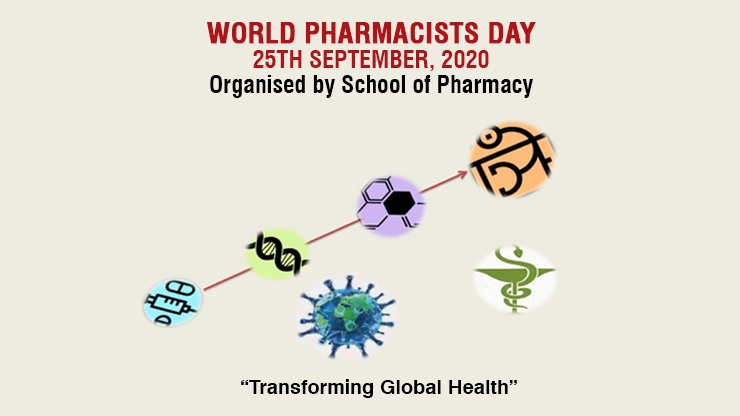 "World Pharmacists Day" on 25th September 2020 on the theme "Transforming Global Health" trough virtual mode in this pandemic situation and live-streamed through different media including social media, was celebrated by School of Pharmacy of The Neotia University, West Bengal.
The programme started at 10 am in the presence of Sri. P.J.Agrawal, Hon. Advisor to the Chancellor; Prof. Biswajit Ghosh, Hon. Vice-Chancellor; Prof. S. Mitra, Hon. Pro-Vice-Chancellor; Dr. R. Sharma, Registrar; Prof. Niloy Sarkar, Dean(Academics); Dr. A. Ramkishan, Deputy Drugs Controller of India, CDSCO (East Zone), Kolkata; Mr. Sukanta Saha, Sub-Divisional Officer, Diamond Harbour and other eminent pharmacists. Prof M. K. Samanta, Dean, School of Pharmacy welcomed the guests and other dignitaries and organized the total program and narrated students about the importance of the pharmacists and their responsibility to the society. The program was started by taking the "Oath of Pharmacist" as prescribed by the Pharmacy Council of India. All faculty members, staff and students of the School of Pharmacy uttered the Oath from the bottom of their hearts. Sri P.J Agrawal, Advisor to the Chancellor graced the celebration with enlightening the purpose of observing such event keeping in mind that The Neotia University is at par with the global forum and reminded the students about the role of pharmacists in the health care system. Vice-Chancellor, Pro-Vice-Chancellor, Registrar, and others emboldened the budding pharmacists and highlighted the scope and applications of Pharmacy on this occasion. Dr. A. Ramkishan, Deputy Drugs Controller of India, CDSCO (East Zone), Kolkata, presented the keynote address on the topic "Transforming Global Health: An Introspection" in the first session of the celebration.
The second session started with the plenary session by the faculties of the institute and different live video presentations by the students of School of Pharmacy on Social awareness including the role of pharmacists in the society and responsibilities of pharmacists in these present corona situations. In the last session of the programme, on behalf of School of Pharmacy, The Neotia University, Mr. Partha Niyogi, Dr. Joydeb Chanda and Mr. Avijit Das handed over 200 Masks, 100 Sanitizers, 200 Soaps and Sanitary napkins to Mr. Sukanta Saha, SOD, Diamond Harbour for the distribution of those things to the community and needy people in this pandemic situation. SDO accepted those items and also emboldened the pharmacists with thanks from the administration which also shown through the virtual mode.
In this session, ten renowned Pharmacists from community and hospital pharmacy areas, industrial pharmacy areas, education pharmacy area, drug regulatory area, professional pharmacy area and entrepreneurship area were felicitated with e-certificates for their valuable contributions to the society on virtual mode. The programme ended with vote of thanks. The total programme was well organized by the student coordinators and supported by all the staff of the School of Pharmacy.