One day National Seminar on "Drug development Vs Patent in Indian Context"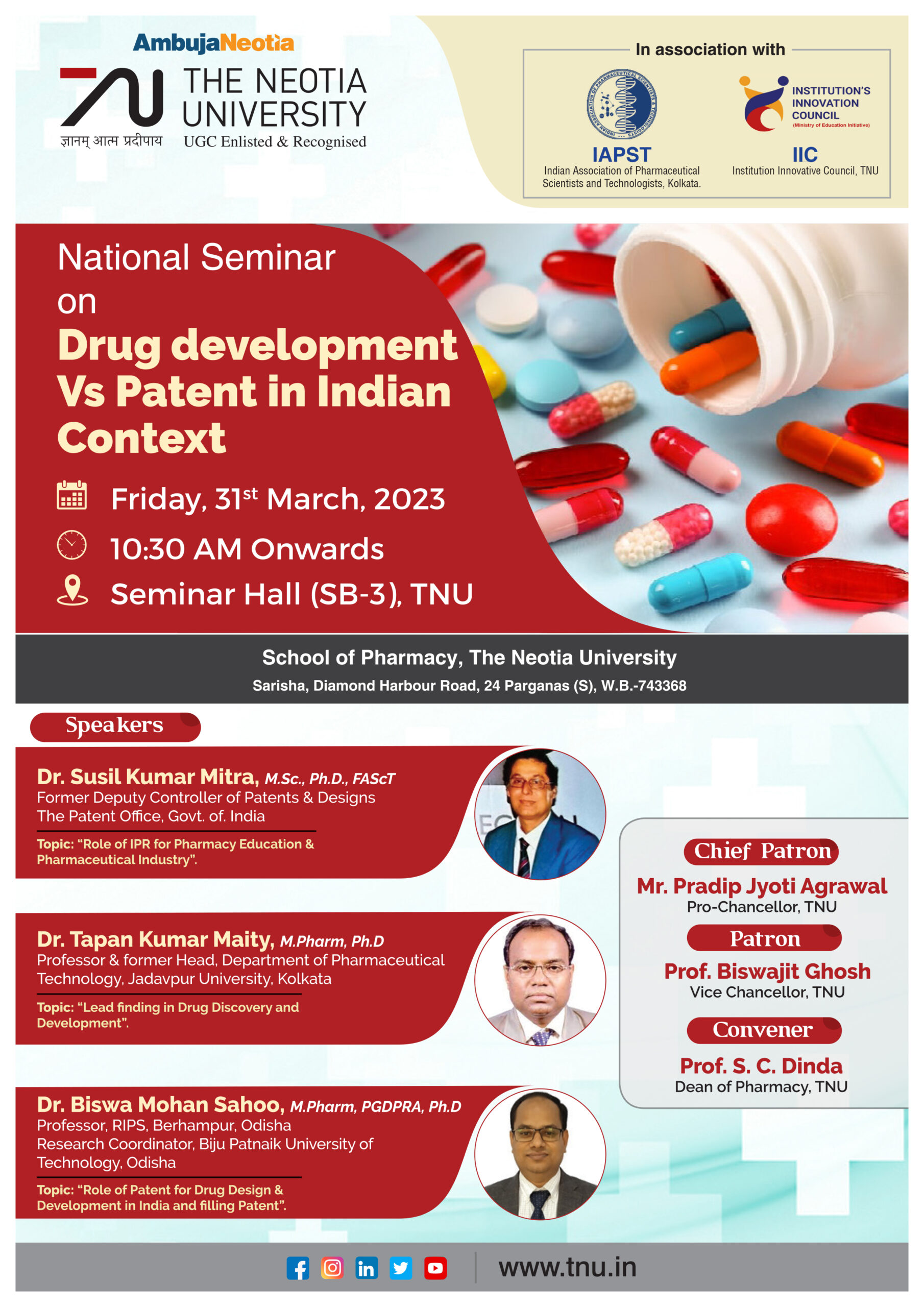 Registration Link: https://forms.gle/NK6S2eio5BQ2a9qG7
One day National Seminar on "Drug development Vs Patent in Indian Context" to be organized by the School of Pharmacy, TNU in association with Institution Innovation Council, TNU and "Indian Association of Pharmaceutical Scientists and Technologists", Kolkata, India on 31st March-2023.
Objectives:
In the current scenario, unprecedented growth is being witnessed in every field. The same is true for pharmaceutical sciences. As a result, the pharmaceutical industry is being attributed to certain major transformations and challenges. Taking in view of healthcare costs, economic insecurities, and expiring patents, the industry is looking for new fields of growth to combat current challenges.
Therefore, it becomes imperative for not only pharmacy students, but also all researchers belonging to the field of science and technology to be familiar with research & development and filling patents.  This would impart a new learning experience for the attending persons and increase their awareness about the new developments happening in the field of drug development and how to protect innovations and filing patents to protect rights of the innovators.
Scope:
The event will also provide an opportunity to discuss drug development versus filling patents and protection on intellectual protection rights.  The keynote lectures by the academic and industrial experts may create awareness and inspire the participants to involve in pharmaceutical research and mean time to know how to file a patent to protect innovation rights.
Target Participants: U.G., P.G., Ph.D. Research Scholars, and Teachers (no. of participants limited to 200). Certificates will be provided to all registered candidates only.
Registration fees for all candidates (UG/PG/ Research Scholar/ Faculty/ Others): 100/-
Spot registration: 200/-
Payment through UPI & NEFT use the bank details mentioned below:
Beneficiary Name: THE NEOTIA UNIVERSITY
Account Number: 100089460994
Bank: INDUSIND BANK LIMITED
Bank Branch: Upper Wood Street, Kolkata-700017
Bank Branch IFSC Code: INDB0000015