In today's world, everybody is in pursuit of successful 1career. There are many who are in search of an unconventional yet bright career options. The notion that only doctors & nurses are required to run a hospital no longer is valid and acceptable today. The hospital administration & managerial activities is such a vital & integral part of the hospital that without which the hospital will cease to operate.
Hospital being a complex organisation which need a completely unique approach to operate needs specially trained managers who have the knowledge & capability to help in the entire hospital operations management so that hospital functions smoothly.
A Hospital consists of numerous departments each having its own distinct function they may be clinical, support, utility, Patient care services, administrative services etc. It is essential that all these departments & units function together in a coordinated manner .So it is here that Hospital administrators & managers play an important role by ensuring that the hospital system works smoothly without any interruption in providing services to the patients.
It is responsibility of Hospital Administrators & Managers to ensure that proper service & care is provided to a patient & his/her family members right from the time step inside the hospital to the moment when they step out of the hospital. The hospital administrators & managers take care of the registration, admission, billing formalities coordinate with the clinical departments, laboratory services, radiology services, pharmacy etc on one hand and dietary department, housekeeping department etc on other hand.
Hospital & Health care administrators & managers are appointed to positions of authority where they can give a shape to the organisation by making important decisions like related to acquiring new equipment & technology, Recruitment & development of staff, service modification & improvisation, allocation of budget & expenditure on resources etc. It is the job of the Hospital & Health care administrators & managers to ensure that each & every hospital centric & associated tasks are carried out in the best possible way to achieve the goals of the organisation & all appropriate resources like human resources ,financial resources etc are utilized at its optimum level.
Organisation Structure of a Hospital and the importance of Hospital Administrators & Managers at each level for smooth flow of Hospital Management System.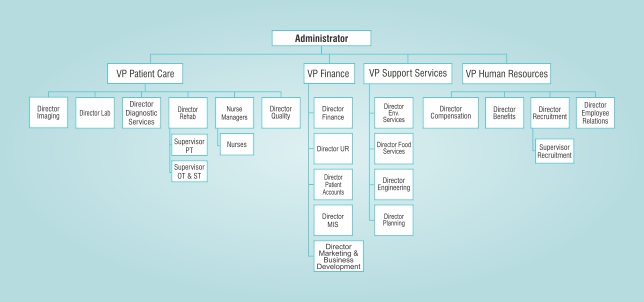 Hospital deals with Human lives each second for 24 hours ,365 days without any break thus differentiating its operations & running from any other organisation.
A career in hospital management helps a student to accomplish two objectives- a good pay package and service to mankind
The USP of this program is the salary package offered is mediocre at the initial stages while a fresher joins the industry, but gradually a dedicated and hardworking person can become the top administrator of the hospital getting one of the highest and most lucrative salary package in the service industry.
The Bureau of Labour Statistics reported that medical and health services managers earned an average, annual salary of $103,680, as of May 2014.
As of now, India has more than 2.5 lakh health care institutes and facilities that are in constant need for skilled hospital administrators and managers
private hospitals (National and international)
Government hospitals
Health agencies, laboratories and clinics
Health insurance companies
Public health departments and rehabilitation centre
Pharmaceuticals and hospital supply firms
Medical software companies and hospital consulting firms
JOB POSITIONS AVAILABLE AFTER COMPLETION OF HOSPITAL MANAGEMENT DEGREE
Floor Coordinators
Patient Care Service Executives/Managers
Unit Coordinators Like OT Coordinator etc
OPD Managers
IPD Managers
Billing/TPA Executives
Guest Relation Executives
Executives in Medical Records Department
Managers/executives in Quality Assurance control Department
Marketing Managers
HR Managers
Front office Executives
Managers in different wards
Managers in different support and utility units
UNCONVENTIONAL CAREER OPORTUNITIES AFTER COMPLETING HOSPITAL MANAGEMENT DEGREE
Hospital Planning and Designing consultancy firms
Hospital Quality Accreditation Training and Consultancy firms
Biomedical Waste management firms
International agencies like WHO, UNICEF etc
During the tenure of 3 years Bachelors in Hospital program (hons.) students have to study a variety of courses ranging from Specialized Hospital management courses as well as general management courses, throughout their 6 semesters.