The world is grappling with the impact of the Covid-19 pandemic. The corona (covid-19) pandemic may never go away; people will have to learn to live with it. This pandemic has changed the mindset of every human being. Every day, our interactions with the outside world, from public spaces, restaurants, educational institutions to each other have been reoriented for the sake of personal hygiene and public health.
Post-pandemic sensibilities are leading to major changes in how the country's food service industry is expected to operate.
Hospitality and tourism sector always provide generous service to their customer.
This industry always believes in providing personalize services in all manners where it can be front office, f&b service, housekeeping, food production or other hospitality services but it could be hardwired to provide, because of social distancing and at the same time we all to deal with this in a very positive manner.
Over the last few months, every part of the hotel experience has been dissected, examined, and is now slowly being put back together to address the challenges hotels face due to this pandemic.
Dining in particular is a tough area to rework. While hotel dining options and physical restaurant spaces can be limited, the entire process—from ordering to food prep to delivery—will always carry some level of risk.
Now that the country is reopening, hotels are between a rock and a hard place when it comes to restarting dining efforts. People will always be looking for their safety and hygiene, yet the last thing you need is for dining to create safety concerns. Ultimately, the best way to drastically minimize risk while bringing hotel dining revenue back is to go digital.
Digitalization is among the most important changes in this fast moving world. Digital innovations and technological novelties are engines of development and show their impact everywhere, including service sectors like malls, theatres, hotels and restaurants etc.
Here in our dining sector where people come to cheer, enjoy and to get comfortable and we believe in providing them all but the study says that we've to update ourselves with the time.
Based on a recent consumer survey by India's largest dining out and restaurant tech platform, Dine out, it is observed that post lockdown, 77% people would actually want to dine out, 81% diners will prefer digital menus, and 23% would continue with home-deliveries and takeaways.
Indian diners are now ranking safety assurance and premier hygiene as top factors when they choose a restaurant to dine in. And, after a dining experience, 60% would prefer seamless wallet-based digital payments over cash/cards.
Due to the emergence of individualism, more and more young people are trying to create something unique that can serve the long-term benefit of the community. Their drive for creating businesses based on their own ideas and experience accounts for the increasing popularity of start-up businesses.
These aspects of uniqueness, community thinking and experience-centered approach hold a huge opportunity for the future of the food service industry.
Post this pandemic if a guest enters a star category hotel to dine he/she will always look for contactless service experience and in this case digitalization will work. If we are providing digital menu card, digital payment methods these are the things which will actually give a great dining experience. We all are surrounded with the technologies and here at our dining room we can also opt for digitalization.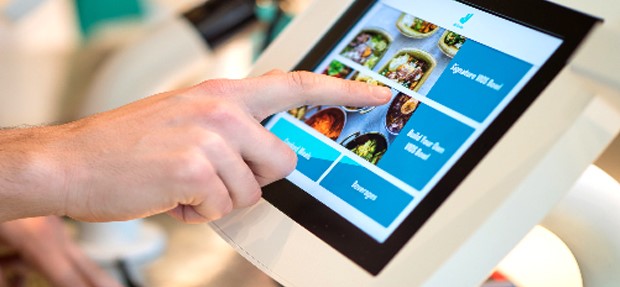 The Future
While looking through their photos, customers usually have a positive experience remembering their dining experiences and the place they had visited. Some specialized digital technologies can offer this assumed positive experience in a searchable and changeable form.
Previously, Restaurants/bar used to be an industry based on personal relations and connections, where the trends – and therefore customers' decisions – were set out by a limited number of large international food service industry.
As a result of the digital revolution, the transparency of "hidden markets" had been revealed and numerous other factors have to be taken into account.
Our living environment is a combination of online and offline spaces that co-exist together, defining our everyday habitat.
In hotel dining, the special use of spaces has always been a unique feature of the hospitality industry, and as of today, the spaces of the digital world have become part of it.
The rapid development of the digital world brings novel and innovative solutions in terms of digital dining.
Peer-to-peer communication is outstandingly important in the technological environment of hospitality. This type of communication, together with the spreading of smart devices have revolutionized scheduling, administration and finances, and also opened new horizons for the introduction of innovative sales and marketing technologies in the whole hospitality industry.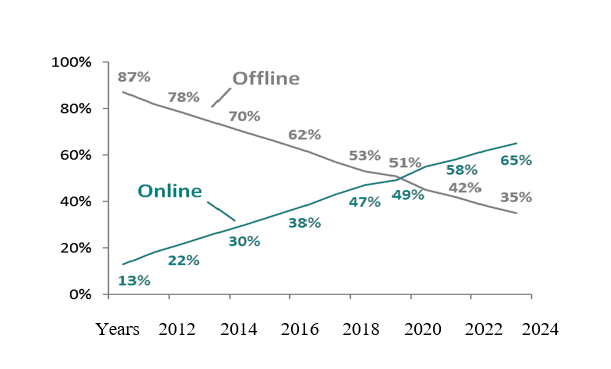 As a result of the digital revolution, the international development trends in hotel and restaurant have opened the way for novel solutions like cloud-based booking sites or information and experience sharing via digital platforms.
This was the graph before the current scenario of the world. Here people opt for online services rather than going somewhere and that too not because of their safety concern but because of the changing world, advanced technology, their comfort etc. and now when this Covid has been added to our life then people will look for their safety concern first and will opt digitalization and in terms of dining we can say it as "Digitalization of Hotel Dining".
Sources:
https://www.bu.edu/bhr/2018/05/31/the-digital-future-of-the-tourism-hospitality-industry/
https://hospitality.economictimes.indiatimes.com/news/restaurants/the-future-of-eat-out-in-india-contactless-dining-digital-menus-and-online-payments/75405178
https://www.fastcasual.com/articles/7-technologies-transforming-the-restaurant-industry/