AICRA INDIA STEM SUMMIT & AWARDS 2020, New Delhi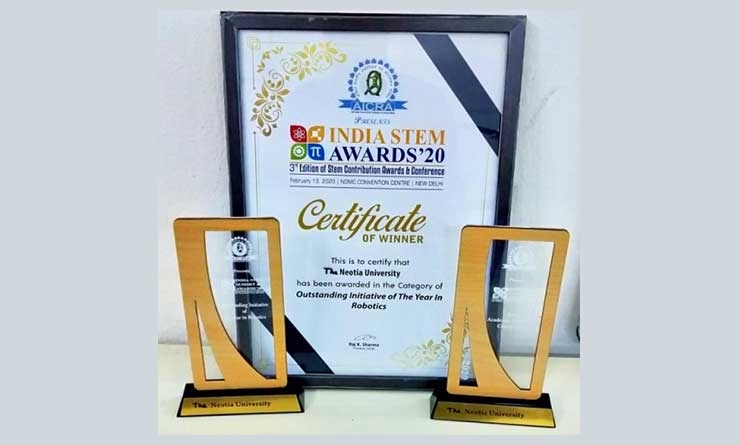 All India Council for Robotics & Automation (AICRA) organized India STEM Summit & Awards'19 on 13th February, 2020 at New Delhi. AICRA is a professional body for Robotics and automation. They generally organize seminar/ conference/ workshop and training program throughout the year.
AICRA STEM Summit 2020 was a global, super – ecosystem event, trans – disciplinary in scope. The Summit was design to breakdown silos, expand attendees' knowledge and forge collaborations, with the overarching collective goal to improve Robotics education in India and open gates for Research and Career Opportunities in Robotics.
AICRA STEM Awards aimed at building a future of excellence in Robotics Education and developing an Eco-system for robotics technology to foster by felicitating achievements of Indian educational institutions, individuals and service providers, for improving the quality of Education delivery in India through visionary thinking, process innovation and disruptive technology reforms.
Programme:
The summit began at 11:00 AM with lamp lighting ceremony. Chief Guest Honourable Shri Nitin Gadkari , Union Cabinet Minister MSME,Road Transport & Highways addressed the audience with his key note speech. He talked about the importance of STEM i.e., Science, Technology, Engineering and Management in a single platform. Welcome Address was deleverd by Mr. Rajkumar Sharma, President, AICRA. Followed by Keynote Session on Building a culture of STEM Education and Govt. Initiatives by Mr. Dileep Malkhede, Advisor (Research, Instituional & Faculty Development), AICTE, Dr. Biswajit Saha – Director Skill Education & Training, CBSE, Ms. Neelima Jerath – Director General, PGSC, Mr. U N Khaware – Retd. Addnl. Commissioner Academics, K V Sangathan. They delivered brief speech on the importance of STEM in Indian education system.
First Panel Discussion on "Necessity, Priorities, Opportunities and Challenges" started at 12 PM followed by High tea. The panellists were Dr. Indrajit Bhattacharya, Director- National Accreditation Board for Education & Training, Ms. Krupalini N Swamy, Vice President- Services and Solutions, Evobi Automations Pvt Ltd, Dr. Vinay Kandpal, School of Business, University of Petroleum & Energy Studies, Mr. Abhinandan Kumar Singh, Founder CEO- Entrancezone.com, Dr. Shivananda Koteshwar, Founder- Belaku Education Trust, Prof. Saurabh Mittal, Area Chairperson – IT – GL Bajaj Institute of Management & Research. They discussed on the recent trend in robotics education and How STEM can transform Education System in India.
Second Keynote Session started at 01.00PM on Market Opportunities in the Indian Education Landscape and Technology as a Booster for STEM Education delivered by Ms. Vinnie Jauhari, Director Education Advocacy, Microsoft Corporation India Pvt. Ltd and Laxmi Nageswari, Global Lead- AI EDU & Solutions,Boston Limited. Third Keynote Session started at 01.30PM on Industry 4.0 Talent vs Automation deleverd by Mr. Ravinder Kumar, Founder – Gamma Skills Automation Training Pvt Ltd
In the post Lunch session Second Panel Discussion held on the topic "Career Progression for Women in STEM". The panellists were Ms. Seema Prem, Founder CEO – FIA Technologies, Ms. Ritika Subhash, Director of Schools, Indian Subcontinent – Blue Duck Education Ltd., Ms. Rakhi Chawla, Founder & CEO, Ed3D Global Math Ambassador – India, Ms. Ami Garg, Head Test Prep – Amity Online Education
Ms. Priyanka Tuteja,Director Operations & Marketing – Cogmation Robotics, Ms. Shweta Moudgil, President- Florence Educational Society. The panellists suggested some method to design STEM, can be implemented in Indian education system.
Next Keynote address was given by Mr. Praveen Kumar Tripati , CTO – Edulife India and Mr. Thockom Sanju Singh, Director – Edulife India Skill Training on how to Improve the Employability Skills to our Youths of India.
Third Panel Discussion held on "Government, Industry and Academia Partnership, Policy Framework, and Collaboration" participated by Mr. Milind Kulkarni, Head, SwarnaJayanti Fellowship Cell, Department of Science & Technology, Mr. Ranjan Choudhury, Head – World Skills India,NSDC, Mr. SK. Varshney – Head International Division,Department of Science & Technology, Ms. Pushplata – Head Engineering division,NCERT-CIET. All the panellists were from Government organization. They shared various Government projects and future plans on STEM education.
Finally at 6:30 PM, AICRA president Mr. Raj Kumar Sharma launched the 6th Edition of TechnoXian followed by Award ceremony and Valedictory Session. The guest present in this session were Dr. D K Aswal, Director, CSIR-NPL and and Dr. Tabassum Jamal (Chief scientist at CSIRNISTADS) as Guest Of Honor.
Award:
There were many award categories to recognize the effort of Indian technology community who are revolutionizing in business and driving innovation with their amazing ideas across country. Some of the winners were Amity University, VIT, Sharda University, AKGEC, Ghaziabad, Ashoka Institute of Technology. TNU bagged the winner award in both the two categories that have applied for (1). Outstanding Initiative of the year in Robotics, (2). Best Academic Innovative Curriculum (For Higher Education) under Center, State or Private University providing advance technology education.
Exhibition:
There were more than 20 exhibition stalls of technology/ Robotics Company. They showcased their products and services. In the Exhibition industry leaders were available for interaction. There were also some start-ups and professionals were available to contact with their peers and exchange business ideas. Some of the participants were Abira, Edulife, Times eCampus, Makebot, entab, Drona Aviation, Juana Technologies, etc.
The programme ended with vote of thanks and group photographs at 7:30 PM.
By Dr. Ankush Ghosh on 13/02/2020 at New Delhi