Celebration of International SUN DAY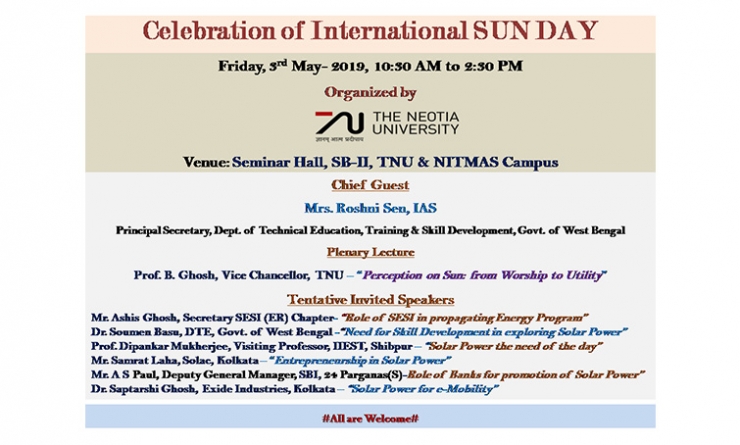 Report of Celebration of 'International SUN DAY' on May 3, 2019 at TNU & NITMAS Campus
The Neotia University and Neotia Institute of Technology Management and Science celebrated the International SUN DAY on 3rd May, 2019 with the faculty members, staffs and students at campus with great enthusiasm and motivation. The International SUN DAY was proclaimed by Jimmy Carter, the President of the United States of America on 3rd May, 1978 owing to expand the use of the Sun as an inexhaustible source of clean energy. The occasion was graced by the presence of Prof. Biswajit Ghosh- Hon'ble Vice Chancellor, Prof. Dipankar Mukherjee- Visiting Professor, IIEST, Shibpur, Dr. Saptorshi Ghosh- Exide Industries, Kolkata, Mr. A S Pal- Deputy General Manager, SBI, 24 Parganas (S), and Mr. Samrat Laha- Solac, Kolkata. In his inspirational and interesting lecture, the Vice Chancellor gave a brief note on "Perception on Sun: from Worship to Utility", where he has merged the mythology and the technology at a particular horizon in a very diligent manner. He also introduced all with the upcoming application and sustainability of solar energy growth in the country.
In his motivational speech, Prof. Mukherjee pointed out the objective of observing the International Sun Day to promote activities and awareness regarding conservation of energy and emphasise on the usage of renewable energy among us. Dr. Ghosh addressed a brief note on the development of modern energy storage devices and its demand in the new era transport system in the form of e-mobility. Mr. Paul mentioned about the financial assistance and facilities given to be an entrepreneur and business developer in solar power sector and also discussed about the penetration of solar energy in the country's power budget. Mr. Laha talked about the practical application of solar potentiality and how is it be applied to create awareness and employment scope which assure energy security and pollution free environment for present & future generation.
The programme indeed inspires one and all present in this auspicious occasion. The energy and passion of the students was in evidence in their performances and interactions that they put up.