Excellent performance by the students of TNU/NITMAS in Table Tennis Tournament organised by MAKAUT, All India Inter-University Boxing Tournament by BHU,Lucknow and Wushu Kickboxing tournament.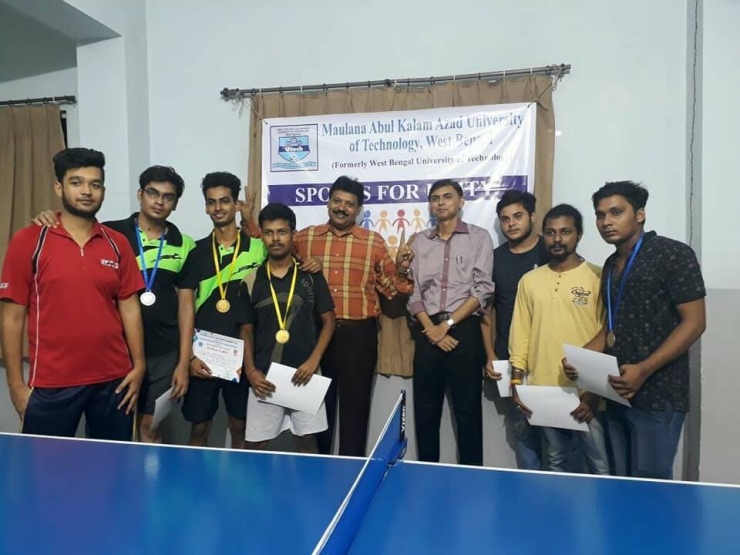 Subham Kundu's outstanding performance in Table Tennis, Anil Kumar Mahato & Sameer Sagar's accomplishment in Boxing and victorious Kickboxing Team made the University/ Institute extremely proud.
Subham Kundu, was instrumental in the University/ Institute becoming Runner Up in the All-West Bengal Inter-Varsity Table Tennis Tournament organised by Maulana Abul Kalam Azad University of Technology (MAKAUT), in which almost all Institutes affiliated to MAKAUT participated. Subham almost single- handedly propelled TNU/ NITMAS to the finals beating B.P Poddar Institute, Dinabandhu Andrews and NSHM on his way to the Finals. Congratulations Subham!
The All India Inter University Boxing is a prestigious and large scale tournament conducted by the eminent BHU, Lucknow at its state-of-art arena. More than 100 Teams come for selections out of which 12 Teams play the qualifying rounds. Anil Kumar Mahato and Sameer Sagar made TNU and NITMAS extremely proud by qualifying for the finals and performing extremely well. This is a professional tournament where the Competion and Skill levels are quite high.
On other side, Ravi Kumar, also an excellent cricketer and athlete of TNU and NITMAS won an official bout. The victorious Kickboxing Team with their medals (L-R) Ravi Kumar, Neeraj Raj, Asif Ali, Alok Saumya, Anil Kumar Mahato, Sameer Sagar, with Registrar, Dr. Rajeev Verma of TNU.