National Symposium to Celebrate World Health Day 2021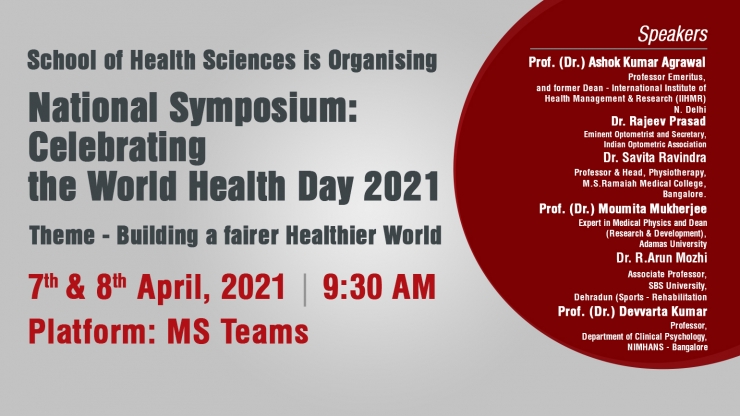 The School of Health Science of The Neotia University (TNU) organized a National Symposium to Celebrate World Health Day. The program included interaction with Professionals from the Industry related to building Health-related awareness followed by cultural events by the students Let's make a Fairer and Healthier World for All. Register Now for the Online National Symposium to Commemorate The World Health Day 2021.
The world has changed a lot in the past couple of years and one section of the population that is affected the most are the students. All they did in the past year was online classes and keeping that in mind, the School of Health Sciences, took the opportunity to celebrate World Health Day 2021 in the most unique way. The theme given by the WHO for the year was, 'Building a Fairer and Healthier World'. The pandemic has brought to the foreground the great divide in the provision of healthcare services. Keeping this in mind, stalwarts from different areas of healthcare were invited to enlighten our students and the Faculty members about the different perspectives that can lead towards a more uniform healthcare practice.
The Symposium aimed to educate as well as entertain the participants. The mornings were solely dedicated to academic sessions where we had Prof.(Dr.) Ashok Kumar Agrawal, our Chief guest who gave a thought-provoking lecture on 'One Health and Important Management Skills'. After that, there were lectures on the theme highlighting 'Physiotherapists perspective of Fairer and Healthier World' by Prof. Savita Ravindra and Dr. R. Arunmozhi. Dr. Jayanta Bhattacharjee and Dr. Rajeev Prasad shared their views on 'Fairer and Healthier World' from the eye of an Optometrist. To give an insight into the workings of the human mind, the students had the opportunity to interact with Prof.(Dr.) Devvarta Kumar who, spoke on Fairer Mental health for all. Last but not the least the students were also fortunate to learn about the role of Terahertz Radiation in Healthcare by Dr. Moumita Mukherjee. The post-lunch sessions were devoted to cultural programs by the students of all the Departments, of the School of Health Sciences.
There was also an interdepartmental poster competition for the students. The 350 odd participants of the National Symposium on World Health Day 2021 belonged to the Department of Physiotherapy, Department of Optometry, Department of Medical Laboratory Technology, and the Department of Applied Psychology. The program was a grand success.