Orientation Program 2019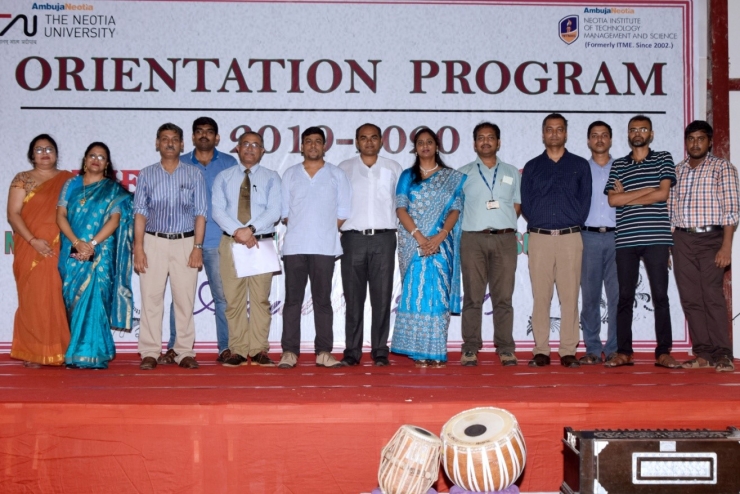 Two days long orientation program for the newly admitted undergraduate and postgraduate students was organized on 1st August, 2019 and 2nd August, 2019 at the University and College campus. Students and their parents were formally welcomed and introduced to the culture of the campus. The orientation began with a brief inaugural ceremony by lighting the lamp followed by invocation song by students.
The dignitaries present on the occasion were Prof. Biswajit Ghosh (Vice Chancellor, TNU), Dr. Sujoy Biswas (Principal, NITMAS), Prof. D D Patra (Vice Chancellor, BCKV), Prof. A K Paul (Professor, University of Calcutta) and Dr. S M Ali (Director, IEI). The program was started with a welcome speech by Prof. Ghosh followed by a brief introduction on the infrastructure and achievements of the university. He addressed the students to improve the personality and communication which are the two important factors for enriching interpersonal relationship. The chief guest of the program Prof. Patra addressed the newly joined students with a motivational vision to achieve goals in their new journey which focused on the mission towards serving the mankind. During his speech, the guest of honour, Prof. Paul inspired all the students by making them understand about the importance of orientation program and wished them on this special occasion.
On the second day of the program, the chief guest, Dr. Ali briefed about the required training programs planned to develop competencies to approach the job market for engineering students. Dr. Biswas welcomed newly students and their parents and introduced NITMAS to them. He also advised them to be focused on academics and explained how to set their career goals in upcoming days.
The students spent these two days interacting with each other and knowing the faculty and staff members in a fun-filled environment. The discussions about detailed program structures and evaluation criteria, placement activities, training programs, anti-ragging rules & regulations, library, different club activities were discussed in different sessions followed by a campus tour by the program coordinators. Student Volunteers of senior batch also helped to carry out these activities.
The programme ended with the vote of thanks.