'Orientation Program on Entrepreneurship' at TNU and NITMAS Campus on 5th September, 2016.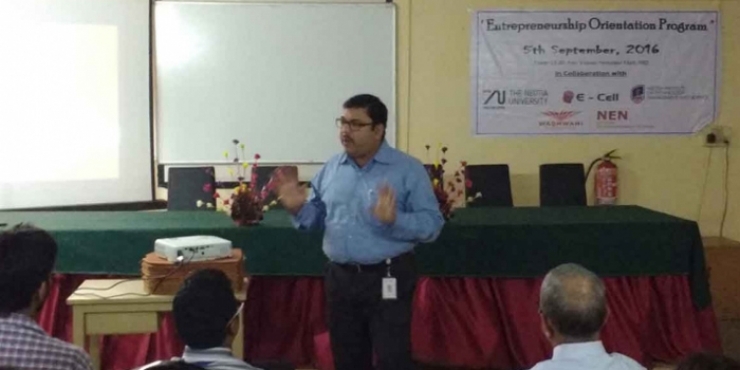 In association with National Entrepreneurship Network (NEN) and E-Cell of The Neotia University (TNU) and Neotia Institute of Technology Management and Science (NITMAS) hosted a workshop "Orientation Program on Entrepreneurship" for the students who aspire to be an entrepreneur.
The aim of the event was to emphasize on student entrepreneurship and to introduce entrepreneur skills to bridge the gap between academics and enterprise through the process of learning, practicing, start-up and growth.
The National Entrepreneurship Network (NEN) is Wadhwani Foundation's flagship initiative in India. It was established in 2003 with a mission to inspire, educate and support high potential entrepreneurs while driving entrepreneurship as a catalyst to create millions of high-value jobs.
In this event more than 60 students from various disciplines participated and around 10 students shown their interest to have their own Start-Up after graduation. Mr. Subhabrata Bhattacharya, Regional Manager (NEN, Eastern region) interacted with the students and showed a roadmap to become a successful entrepreneur. He discussed on Entrepreneurship skills, idea generation and raising funds for startups. Subhabrata said "There are 3 F's who can fund a student: Friends, Family and Fools". At the end, students were introduced with a complete module of 3 years curriculum on entrepreneurship skills which has been introduced by NITMAS and TNU in collaboration with Wadhani Foundation from this year.