Sangamam, 2016 – An Alumni Meet.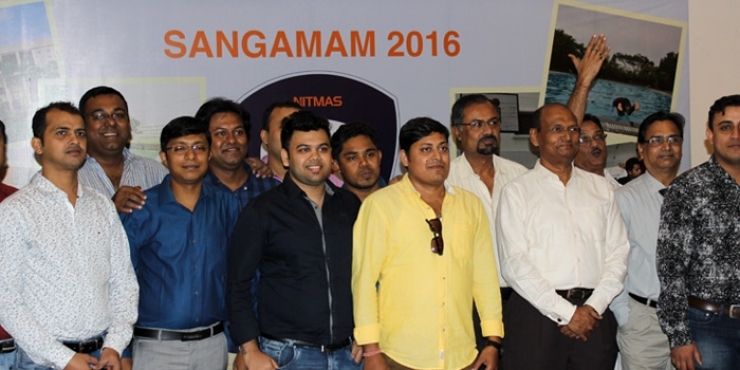 An Alumni Meet, SANGAMAM 2016, was conducted by The Neotia University (TNU) & Neotia Institute of Technology Management and Science (NITMAS) on 8th November 2016, at Rang Durbaar, Swabhumi.
A memorable nostalgic evening for Alumni and Students alike, as graduated Engineers and Officers from the passed out batches were present, along with the current year scholars.
Also, present at this momentous occasion were Mr.Amitava Banerjee (Director- SOMS), Captain Hemadri Ray(Principal- BNS), Mr.B.K. Ray ( HOD- Marine Engineering), Prof.A.K.Biswas(Senior Faculty) and Mr.R.K. Verma ( GM- Education Vertical & Registrar- NITMAS).
Addressing everyone present, Mr.Amitava Banerjee, in his enlightening, motivating and highly informative talk spoke about the Maritime Industry, the prerequisites of a good Marine and Deck Cadet, and the scope of the Industry. Mr.Banerjee, in his special address to the Alumni, explained what was expected of them and to what extent they could contribute to the careers of the present students. The other dignitaries also addressed the Alumni's.
Soumya Chatterjee, a graduate of 2006, received a special felicitation for being the first student in the history of the Institute to have cleared his MEO Class 1 Exams, which qualifies him as a Chief Engineer, and sail ships of Unlimited Horse Power.
Members of the Alumni spoke about the Industry, their experiences, and the significant contribution of the Institute to their careers.This was followed by an interactive session with the juniors, sharing their experiences and doubts. The Alumni's also spoke greatly about their interest in shaping the career graph of the present students.
Sumptuous lunch, was followed by an excellent musical performance by the College Rock Band. Everybody present sang- along, creating an atmosphere of unity and harmony.