Sun in the Services of Mankind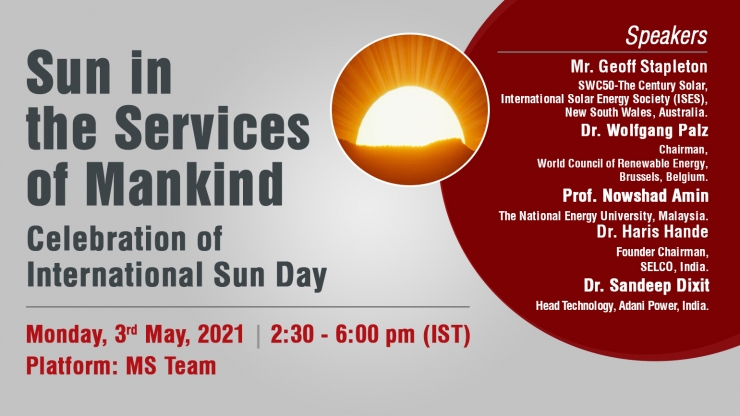 The Neotia University (TNU) is organizing an online program on 'Sun in the Services of Mankind' to celebrate International Sun Day on 3rd May 2021.
Lead Speakers of the Program:
1. Mr. Geoff Stapleton, Chairman SWC50-The Century Solar, International Solar Energy
Society (ISES), New South Wales, Australia.
2. Dr. Wolfgang Palz, Chairman, World Council of Renewable Energy, Brussels, Belgium.
3. Prof. Nowshad Amin, The National Energy University, Malaysia.
4. Dr. Haris Hande, Founder Chairman, SELCO, India.
5. Dr. Sandeep Dixit, Head Technology, Adani Power, India.
Time Schedule: 2.30 pm to 6.00 pm
Registration link: https://bit.ly/3a8ha9t
Last date of Registration: Sunday, 2nd May 2021.
The program will be conducted in online mode through the MS Team Platform.