Three days training program in Fisheries Science & Aquaculture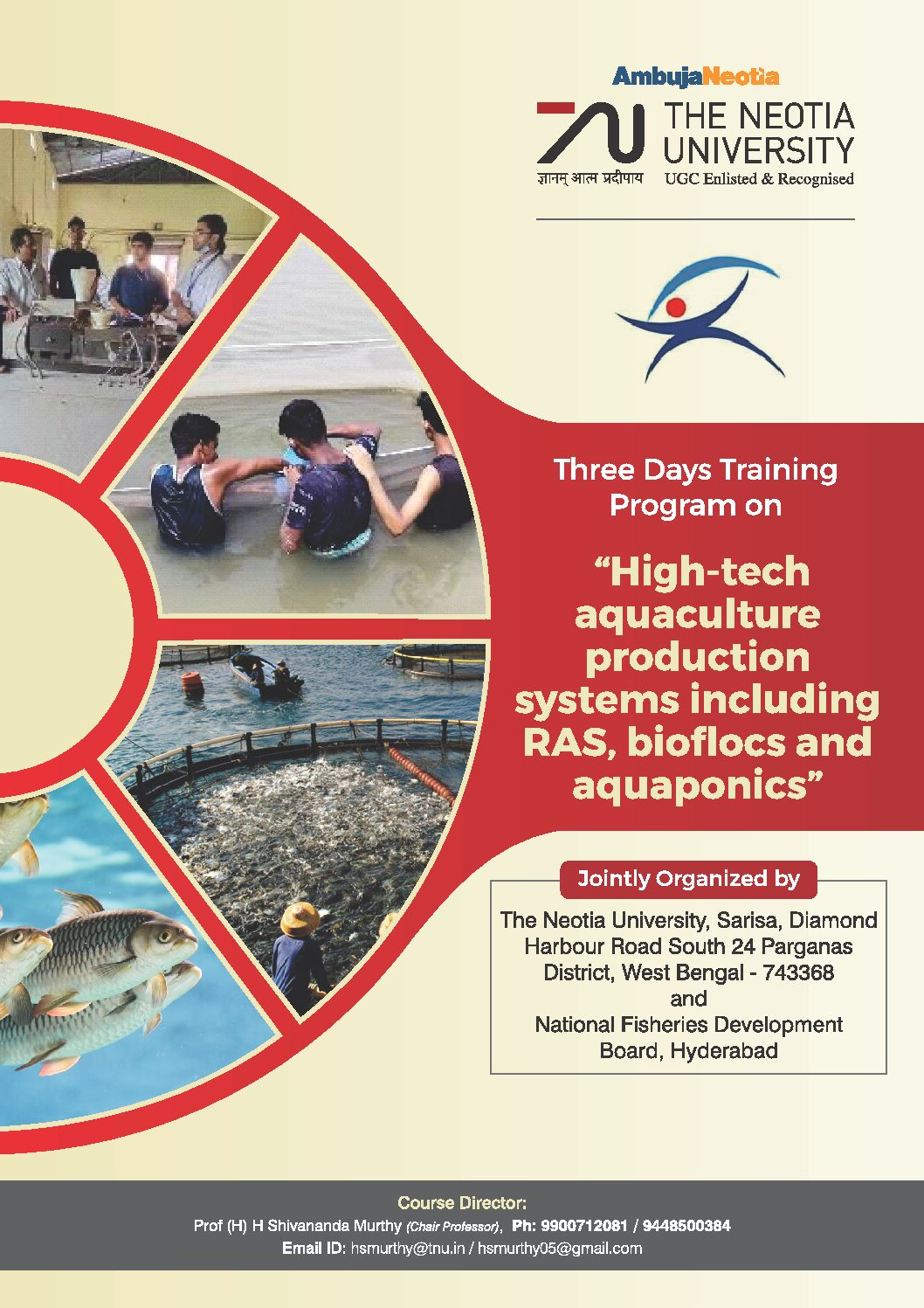 Three days training program on "High-tech aquaculture production systems including RAS, bioflocs and aquaponics"
Organizers: The Neotia University, West Bengal and The National Fisheries Development Board, Hyderabad
Dates: 08th to 10th February, 2023
Venue: Seminar Hall, SB-II Building, The Neotia University, Sarisa, Diamond Harbour Road, 24 Parganas (South) district, West Bengal – 743368 
Who can participate: The present fish farmers and those very much interested to venture in to fish farming
Introduction:
The aquaculture sector has been recognized as a powerful income and employment generator as it stimulates growth of a number of subsidiary industries and is a source of cheap and nutritious food, at the same time it is an instrument of livelihood for a large section of the economically backward population of the country. Aquaculture and fisheries sector occupy an important place in the socio-economic development of the country. Aquaculture is a fast-growing sector in India, which provides nutrition and food security to a large population of the country besides providing income and employment to more than 28 million people.
The Aquaculture and Fisheries sector has been recognized as a 'Sunrise Sector' and has demonstrated an outstanding double-digit average annual growth of 10.87% since 2014-15. The sector has reached record fish production of 16 million metric tons in the last year and has immense potential for growth. India is the second largest fish producing country in the world accounting for about 8% of global production and contributing about 1.24% to the country's GDP (GVA) and over 7.28% to the agricultural GDP. Fisheries and aquaculture continue to be an important source of food, nutrition, employment generation, income and livelihood to millions of people. Export earnings of the country from the Aquaculture and Fisheries sector has been Rs.56000 crores during 2020-21. 
There is a tremendous potential for increasing fish production through aquaculture. Ponds and tanks are still not effectively utilized for sustainable aquaculture. West Bengal is a fish eating state and may be number one state in the country, particularly freshwater fish consumption. The available ponds, tanks and other water bodies need to be brought under sustainable fish culture.
In addition to conventional carp culture, there are lots of opportunities for advanced and high-tech aquaculture systems, namely, Recirculatory Aquaculture Systems (RAS), Bioflocs, Aquaponics and other forms of intensive and high-tech aquaculture using very low water and small portion of land. Unemployed youth find an opportunity of self-employment in these areas.
In this direction, The Neotia University, Sarisa, D H Road, West Bengal is organizing a three day training program for the benefit of fish farmers and those interested in high-tech aqua farming.
Resource Persons: Expert faculty members of The Neotia University, Guest faculty drawn from Corporate Fisheries & Aquaculture Industries, Scientists of Central ICAR Fisheries Institutes, will deliver lectures and make presentations.
Logistics: Participating farmers will be paid actual travel costs by public transport. Transportation by bus (Jhinga or Sarisa stops) and train (Diamond harbor) is available. Lunch and tea will be arranged by the organizers. The program is a day scholar (non-residential) event. At the end, participation certificates will be issued to all the participants.
Confirmation of participation: Interested farmers and participants have to send willingness in filling the attached format to: The Chair Professor (Prof H Shivananda Murthy), The Neotia University, by email, before 1st February, 2023.
Email ID: hsmurthy@tnu.in; hsmurthy05@gmail.com
Phone: 09900712081 
Training is organized for limited participants on a first come first serve basis. So interested fish framers/entrepreneurs are informed to send their interest at an early date.