TNU Celebrates "Azadi 70 – Yaad Karo Kurbani (Freedom Fortnight)" and Independence Day.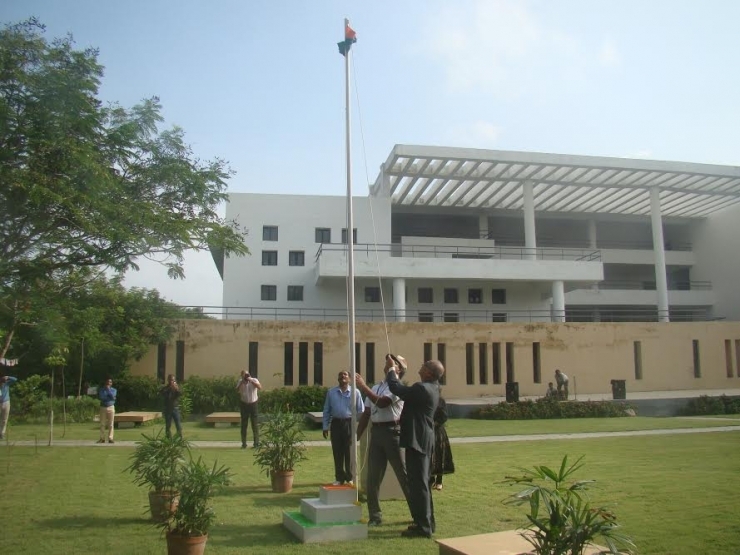 As in previous years, The Neotia University, West Bengal (TNU) and Neotia Institute of Technology, Management and Science (NITMAS), celebrated the freedom fortnight, and the 70th Independence Day on 15th of August' 2016, with great enthusiasm.
The Vice Chancellor, Professor A.S.Kolaskar, hoisted the flag at 8.00 am in the morning of 15th of August'16 and took the grand salute from the Cadets, after the National Anthem.
He also gave an inspiring speech, indicating how the independence is still incomplete. He told the gathering that we should not forget the sacrifices of our freedom fighters, their families, as well as our arm forces and disciplined brave soldiers who are working day and night to keep this country free. As young Indians, we all need to work hard for the development of our Country. Students therefore need to study very hard and achieve excellence in their chosen walks of life. That will be a true tribute to our freedom fighters.
The Cadets carried out the march past to celebrate "Azadi 70 – Yaad Karo Kurbani". The Vice Chancellor and other senior members of the University observed the march past and encouraged the cradets.
The cultural program started with the song "Aye Mere Watan Ke Logo" sung by the NITMAS students,this was followed by other patriotic songs. Kathak dance was performed by two students, depicting India's culture and tradition. Students also gave beautiful speeches on the sacrifices that the freedom fighters and their families have made to earn Independence to India (Bharat) on 15th of August,1947. A historic speech, "Tryst with Destiny" delivered by Jawaharlal Nehru, the first Prime Minister of Independent India, at midnight on August 14, 1947,in New Delhi, was also played. Last but not the least, Mr. Amitava Banergee, Director SOMS, also gave a short speech on the event of India's 70th Independence day.
The Program ended with the Lip-sync in tune to the National spirit Jaya Hey !
Click Here: https://www.youtube.com/watch?v=FC5onJA8WuI
Jaya Hey, a tribute to Rabindranath Tagore, is a medley of melodies that evoke a feeling of patriotism. It comprises five verses of the original 'Jana Gana Mana' with as many as 39 Indian music maestros lending their voice and a commentary by Padmashri. Harshavardhan Neotia, to Tagore's timeless composition. Mr. Harshavardhan Neotia is the Founder and Chancellor of the University.
On 15th of August'16, sweets were distributed by Professor A.S. Kolaskar and his wife Dr. Rajyalaxmi Manda, to all the faculty members, students staff and their family members.