Visit of Mr P. H. Krishnan, MD & CEO, K-Ships, Mumbai to the Campus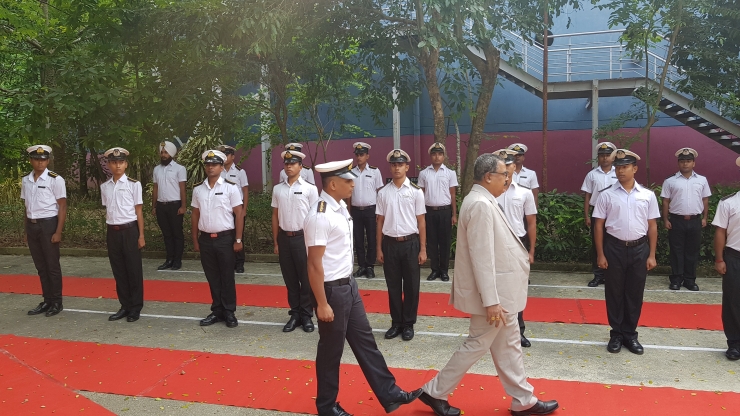 It was a unique and highly informative experience for the Marine Engineering (MRE) and Bachelor of Nautical Science (BNS) Cadets at The Neotia University and NITMAS, when they witnessed the visit of an eminent personality in the Shipping Industry, P.H.Krishnan.
Mr. Krishnan, in his illustrated career had ranked 28th in the IAAS, and had held several Senior positions in Government and Private Sectors- most notably, he served a tenure as Deputy Director, DG Shipping, Government of India. Mr. Krishnan is on the board of several companies currently, and most importantly, he is the MD and CEO of K-Ships, a fleet manning company which holds a record of having SENT on board a maximum number of Trainees, next only to giants Anglo-Eastern. The Company manages close to 117 Ships across Dubai, Singapore, Hong Kong, Romania, Greece, Turkey and Moldavia.
The programme commenced with a resplendent Guard of Honour organised by The Cadets at The School of Maritime Studies (SOMS). The venue was then shifted to the Seminar Hall, where the Cadets were addressed by Prof. Amitava Banerjee, Director- SOMS, underlining Mr. Krishnan's profile and stature, and quantifying how K-Ship would help aspiring and deserving Cadets to find employment. This was followed by Mr. Krishnan's informative and extremely talk on Marine Industry standards, requirements for a life at sea, norms and protocols to be followed, the need for discipline, dedication, obedience and resilience and how a prospective Cadet must mould himself. Mr. Krishnan explained the role of K-Ship in generating employment for prospective Cadets, and an overview of the Company and its activities and scope.
All Cadets present were benefited by this informative lecture.