Webinar on Infinite Opportunities of being a Chef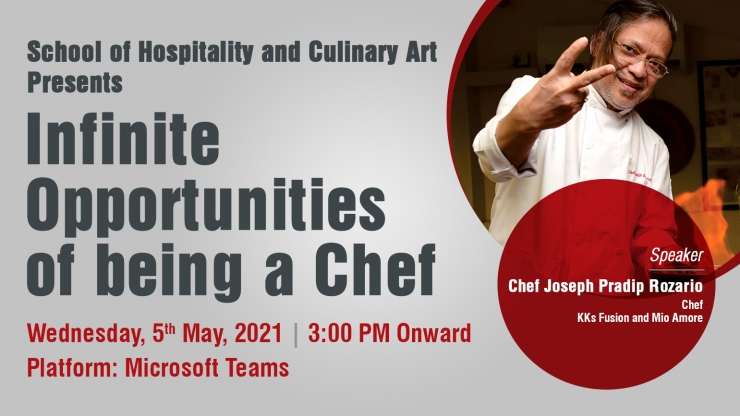 School of Hospitality and Culinary Art is organizing an Online lecture on Infinite Opportunities of being a Chef. The Student will be able to learn the limitless Opportunities of being a Chef.
The event was focused on the Culinary Art stream and as well as those who were interested in knowing different opportunities that lie ahead after completion of the BSc Hotel and Hospitality Administration course. The major point which our guest speaker discussed was, Chef has the opportunity to hone their skills in various sectors such as restaurants, resorts, country clubs, convention centers, casinos, and cruise lines, for a chef every day is a new experience while there are routines in every occasion, each day comes with plenty of possibilities for breaking the mould and trying something new whether it is a special event or a special menu for guests. Chefs have the ability to shape day-to-day activities according to their requirements.
Chef Rozario advised on how cooking is the greatest art in the world even greater than the best painting as that attracts the eyes only but what the chef creates attracts the eyes, the nose as well our tongue that is why the chef are the biggest artist in the world. It is said that for being a successful chef, one needs to have the sixth sense which helps them getting their guest's needs even before they ask for it. Chefs are held in high regard for their knowledge and ability to perform miracles in the kitchen. For a chef, his kitchen is a close-knit family where they spend hours cooking with one another socializing with others which creates a sense of close relationship that can lead to a strong team. Chef Pradeep Rozario was able to inculcate in our students a sense of positivity so as to pursue their dream of becoming a chef in any sector of the hospitality industry as Chef Pradeep Rozario mentioned during the webinar, "The title Chef is a lifetime one which never goes away and does not require any renewal of a lifetime to maintain- Once a Chef, Always a Chef".