Workshop on " Student Evaluation" at TNU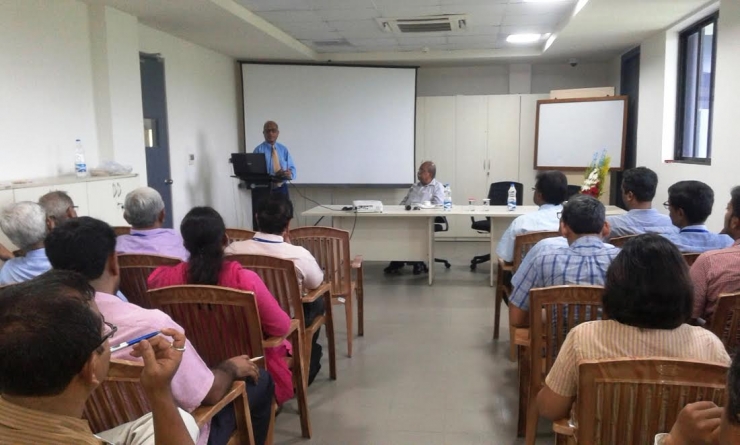 The Neotia University (TNU) has organized a workshop for the teachers of Neotia Institute of Technology, Management and Science (NITMAS) and TNU to provide them an in depth understanding of how to evaluate the students. The resource person for this workshop was Prof. Ashoke Thakur, Former VC of WBUT & Founding VC of West Bengal State University.
The Vice Chancellor of TNU, Prof. A. S. Kolaskar, resided over the workshop and introduced the speaker. during his talk he has mentioned that TNU does not examine the students but evaluate them. He further stated that in India there are several workshop and programmes on how to teach the subject but hardly any training is given to the teachers at the University level on how to evaluate the students. The examination paper therefore contains questions which are of repetitive nature and the answers of such questions depend on rote memory. He said that in TNU, since we follow continuous evaluation teachers must design class teast assignments, semester end examinations and projects carefully to find out students abilities, such as, analytical and logical ability, problem solving capacity, understanding of fundamentals and their applications, innovativeness, the ability to work in group as well as communication skills, therefore the evaluation process need not be only in the written form. For Professional courses coordination of hand and brain of the students need to be evaluated to carry out proper evaluations. Teachers must know the outcome of each course. Each subject therefore has to follow an approach or approaches as per the outcomes. He also briefly mentioned the difference between students assessment and evaluation. He suggested that there will be a separate workshop on students assessment.
Prof. Ashoke Thakur, talked about the philosophy of evaluation and stated that education cannot be complete without evalutaion. Education is for the development of the brain and the person. In today's world it is essential that we nurture innovativeness. He stated that the teachers need to evaluate students innovativeness by formulating suitable questions and problems. Same assignment need not be given to each student. Students should be encouraged to take up projects and develop products using either innovative approaches or technologies. In many Universities because of the large number of students in a particular class or section it is difficult to individualize evaluation. However one needs to make effort towards individualized instructions. He has also stressed on evaluating the problem solving ability of students and suggested that the teachers should give assignments those deal with real time problems and make them work in the group.
The workshop ended with interesting question answer session. The reaction of the teachers was that similar workshops with actual examples be carried out as a next step. They found the workshop to be useful, an eye-opener.